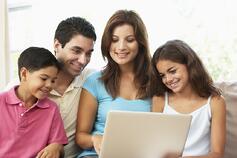 Here you go: Our weekly roundup of the top safety articles of the week courtesy of SafeSoundFamily. Tim is featured twice this week!
Home Safety
If you have little ones at home, Alison at KidSafe has an excellent home safety cheat sheet (overview), complete with babyproofing advice that even seasoned parents can overlook.

Raise your hand if you love Q&A sessions. Rachel from the Culture of Safety blog answers six reader questions this week. Pop Quiz: Can you get burned by tap water?

We do a lot to protect our families and homes, but here's something that's easily overlooked: Have you made an inventory of your possessions? That list can be indispensable in the case of theft.
Family & Child Safety
What's one surefire way to boost your immune system? Get enough sleep. Most adults need 6-8 hours, and kids need more.

If you know someone who just doesn't "get" the effects (and dangers) of cyberbullying, send them over to iKeepSafe to read Katie's post on bullying in the digital age.

And, yes! Here's an uplifting story: Lenore of Free Range Kids recounts a tale of two kids (ages 9 and 10) who saved a baby's life. This is what heroes look like, readers.

The news is full of the "fear factor," but Kenny's post at blog4safety debunks some common safety myths. Click on over to discover 20 things that are statistically safer than you think.

This is almost the flip-side of the above list, but the Compliance and Safety blog shares a great infographic of 20 surprising dangers. If they weren't dangerous, some would be almost funny. (e.g. You're more likely to die by collapsing sandcastle than get eaten by a shark!)

Caroline of Common Sense Media has some practical (read: realistic, finally!) advice about children and screen time. Because you know you let your kid watch TV.

Back in my day, we plastered Mr. Yuck! stickers everywhere, but parents today can count on Jacque's excellent post on poison prevention at Baby Product Experts.

And finally, since your pets are definitely an important part of the family, PetSafe gets real about how to introduce a new cat to your household.
Food Safety
Food safety topics kept popping up this week, so they're getting their own category!
Casey at Moms Rising summarizes a recent study linking sugar to diabetes, and encourages parents to play whack-a-mole with our kids sugary snacks.

Also from Moms Rising, Debbie wrote a powerful and heartfelt post this week on junk food, school, and how hard it is today to watch what our kids eat. Read the whole post for a happy ending!

Monifa, again of Moms Rising (I just can't help it, they're on fire this week!), explains that black children are at greater risk of childhood obesity. And she encourages all parents to sign the petition to support Junk Free Schools.

Speaking of sugar and health, Consumer Reports has a scary statistic for you: soda and sugary drinks have been linked to 180,000 deaths per year.

And here's one that will strike close to home for anyone with a picky eater: evidence suggests a link between the Standard American Diet and behavior problems, like hyperactivity and sleep issues.
Mobile & Cyber Safety
Hackers are getting sneakier, and meaner and more detailed. And, increasingly, hackers are targeting small businesses. WeLiveSecurity talks about keeping your customer information safe.

Michael Levine and Christopher Ferguson cross-post to SafeKids and discuss whether video games influence youth violence. You might be surprised at their answer.

Nikki posts to the iKeepSafe blog about passwords, specifically on how to create hacker-resistant passwords.

Tim of uKnowKids is one of my favorite safety bloggers, and for good reason: his posts are always excellent – rich and meaty. This week, he gives us some great tips on how to talk to teens about sexting. Way to tackle a sensitive topic!

Just one more from Tim, because it's also important: read up on his recommended digital safety rules for every household. I love that he differentiates trust in your child from trust in everything available online. That's an important distinction.

Heads up, there's another email scam on the loose. WeLiveSecurity clues us in to a link scam that masquerades as current events (in this case, Cyprus and its financial crisis).

And here's another timely warning; Robert Siciliano of McAfee warns about tax-time scams. Think about it: millions of Americans filing taxes + private banking and financial data + a prevalence of online tax software/advice/filing = a dream cocktail for hackers and scammers.
Senior Safety
Susan of Help! Aging Parents reminds us that aging bathrooms are not the best choice for aging parents. Even small changes can make a big difference in your parents' quality of life.
Work Safety
As I sit here in my brand new desk chair, I can't help but nod in agreement: Joe guest posts on blog4safety about why ergonomics matter so much, especially for office furniture.