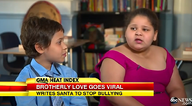 With all of the tragic news surrounding the tragic suicide of Rebecca Ann Sedwick attributed to cyberbullies, we thought you might need a little joy in your life.
Watch this uplifting video about a brother who wants nothing more but to see the bullies stop messing with his sister.
Imagine what would happen if all children and teens showed this compassion?
Video reposted from Upworthy.