SWAT-ting: Inside a New Trend in Cyber Crime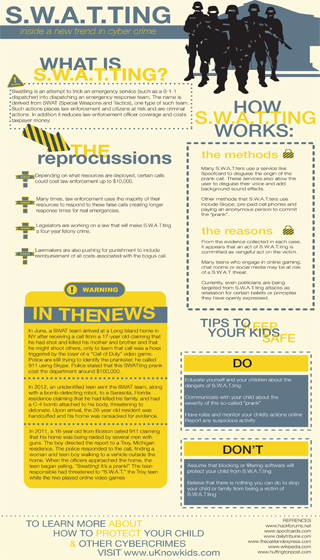 As part of its commitment to keeping children safe and update parents with pertinent information, uKnowKids has designed a campaign to inform parents of the importance of teaching kids the repercussions that come with SWAT-ting. uKnowKids wants to ensure that kids understand that "certain calls could cost law enforcement up to $10,000 and that legislators are currently working on a law that will make SWAT-ting a four-year felony."
uKnowKids provides the following tips on SWAT-ting for parents:
Educate yourself and your children about the dangers of SWAT-ting
Communicate with your child about the severity of this so-called "prank"
Have rules and monitor your child's actions online
Report any suspicious activity
Don't assume that blocking or filtering software will protect your child from SWAT-ting
Don't believe that there is nothing you can do to stop your child or family from being a victim of SWAT-ting.
Use a Parental Intelligence System: It's the parent's job to make sure to keep their child safe and the only way to do that is to monitor their
phone calls, text messages, and social media sites.
It's imperative to stop any situation before it
becomes a catastrophe.