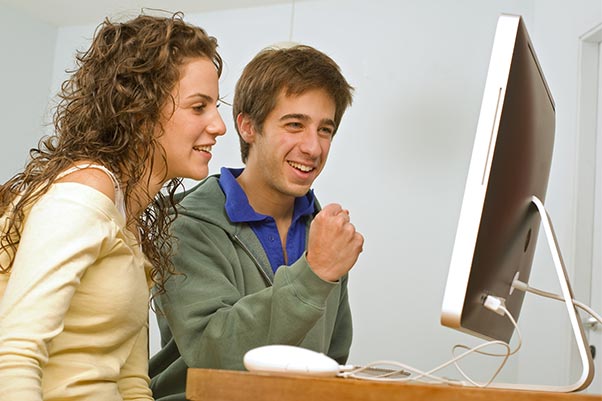 Let's face it: most of us spend too much time in front of screens. The Kaiser Family Foundation reports that kids and teens ages 8-18 spend about 7.5 hours using entertainment media daily. Kids and teens aren't the only age groups that spend too much time in front of screens! In 2013, Advertising Age magazine concluded that adults in the U.S. spend approximately two and a half hours a day online, nearly the same amount of time on mobile devices and smartphones, and another four and a half hours watching TV.
While, at best, screens can be educational, entertaining, and convenient, there's a fine line that exists between screens adding value to our lives and where they begin to negatively impact our health. The American Academy of Pediatrics recommends that no one should spend more than 1 or 2 hours in front of a screen daily. Excessive screen time has been shown to contribute to a myriad of mental and physical health problems, including sleeping difficulties, obesity, and depression. Consider applying the following screen rules, originally written by Yahoo! Tech Tech Columnist Dan Tynan in the article Five Ways to Break Your Kids' Screen Addiction (and Yours, Too), in your household:
1. Create a contract. As I've written elsewhere, it's a good idea to sit down with your kids and collaborate on guidelines for when and how they're allowed to use their devices. Write them down so there's no dispute later over what they agreed to.
(Many parents bristle at the notion of negotiating anything with their children. If the "my way or the highway" approach works for you, fantastic. I think kids are more likely to follow the rules if they have a say in creating them, and are also more likely to become responsible adults. But ask me in 10 years and I'll let you know how this has worked out.)
2. Establish tech-free zones. A popular tactic is to set times or spaces where technology is verboten (that also includes you, by the way). Meals are a typical time to ask everyone to check their phones at the door; many parents forbid technology after a certain hour or in kids' bedrooms; and some plan gadget-free trips and other activities.
You will probably need some kind of monitoring system on your home network to help enforce these rules. You'll also want to get familiar with the devices your kids use most. The iPad, Kindle, and Xbox all have rudimentary parental controls built in, while AT&T, Sprint, T-Mobile, andVerizon let you set time restrictions and put other limits on their phones for a small monthly fee.
3. Choose your screens carefully. Measuring screen time alone is missing the point. There's a big difference between spending two hours building cool stuff in Minecraft and spending two hours decimating zombies in Dead Rising. I think my son spends too much time watching YouTube videos, but actually many of them are about science or history. It's not a substitute for playing football, but it's not a total brain-melting waste either.
The biggest offender, by the way, is not the computer, console, or phone. Researchers at Boston Children's Hospital concluded that the worst contributor to childhood obesity is the TV. Why? Kids are bombarded with ads for fast food and sugar-saturated drinks. And, worse, their hands are free to stuff this junk down their gullets.
4. Get active. What does a kid do when there's no screen to turn to? What you used to do when you were a kid: Break out the board games, ride bikes, play hopscotch. There was a period in third grade when my daughter was obsessed with knitting and got all of her friends obsessed, too. That worked fine.
There are also dozens of Xbox, PlayStation, and Wii games that allow kids to exercise more than just their thumbs, using the consoles' cameras and motion detectors. These games are also easier for most adults to play along with. It's still technically screen time, but it's social and physically active screen time.
5. Heal thyself. Want to see someone who probably spends too much time staring into the electronic void? Look at the reflection in your monitor. Or smartphone. Or tablet. If you're not dealing with your addiction to pixels, how can you ask your kids to deal with theirs?
Awareness of this problem has given rise to a new phenomenon: unplugging camps for adults, where overly wired professionals free themselves from the shackles of technology. There are dozens of these; one of the better known is Digital Detox's Camp Grounded in Anderson Valley, California. This June, for a little more than $500, you can spend four days taking workshops in archery, dance, tai chi, and fire making, among other things. You're not allowed to tweet about any of it.
"The rules at camp are taken seriously," says founder and camp director Levi Felix. "No digital technology, no work talk, and no networking. The focus isn't on disconnecting from devices as much as it is about reconnecting to the things that really matter in life."
One of the biggest take-aways that parents can receive from this list is that it's important to choose your screens carefully. In the world of screens, quality should have some kind of precedence over quantity. You may decide to set up boundaries based on the idea that digital activities which you deem educational or time-saving are more widely permitted. Making looser rules around higher quality screen activities can be considered a win-win situation in your house and may encourage overall higher quality technological pursuits.
Whether you decide to set up tech-free zones or create a screen contract with your family, it's worth a shot to try to make a change! Finding a balance that enforces healthy screen quantity and quality for kids and teens is a responsibility of digital parents.
Participate in uKnow's Teens, Tech & Health Twitter Party on the last Wednesday in May to learn more about and discuss the effects of screens on mental & physical health!
Read Dan Tynan's full article here.