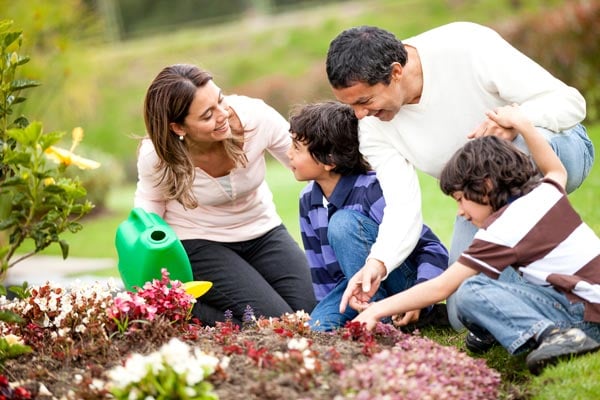 The onslaught of digital duress may be stripping back the fabric of your family. It is no secret that in this age of digital everything, digital parenting has leapfrogged over so many other more traditional means of parenting. Although digital parenting is a necessary adaptation, it's important for families to strengthen communication before technology.
While it might be unrealistic and unnecessary to change to an unplugged lifestyle, families can reap huge benefits by unplugging just for a day or weekend! See how the challenge of a temporary bout of unplugging can be beneficial for all family members!
Physical: Childhood obesity is a real problem in America and in the rest of the world. This should not be ignored. Digital living should also be culpable in this event. Here are some tips to keep your kids active and healthy:
Outside- Make sure your kids go outside and play when weather and schedules permit. Don't let them just come home and sit in front of the computer or digital device all day. It's no different from the TV onslaught when our cable providers went from 12 channels to 12,000!
Activity- Your kids should also have outdoor activities that you should be encouraging. Sports, cheerleading, dance, gymnastics, indoor leagues, and other things which get your kids out from behind the screen and interacting with other kids is certainly a healthy strategy for living unplugged.
Brain- Even if your kids don't like to be as physically active as you think they ought to that doesn't mean you have to stick them behind a computer. Maybe your child can solve puzzles, play chess, coach others, tutor, or embrace some kind of physical labor. It may sound cruel but learning about physical labor is not a bad thing. Coaching and tutoring teaches repetition for their own studies and leadership skills that they can carry with them through life.
Long Term Consequences- One of the frightening long term consequences of digital parenting and it's offshoot, digital living for young people are the long term health consequences. One third of all children born after the year 2000 may be forced to deal with some kind of diabetes in their lifetime. No one wants that. So get your kids outside and out from behind the screens so that they can lead happy and active lives.
It's no secret. The world has changed and it continues to change. Digital parenting is a part of most parents lives in some regard. But just because you may use the tools allowed by digital parenting doesn't mean that you have to rely on it solely or that your children have to suffer it's negative effects. Make it a point as a family to live unplugged once in a while, put down your cell phones, shut off the screens, and get out and embrace life! Not only will your children benefit but your whole family will too! Strengthening bonds without technology can only improve communication with technology