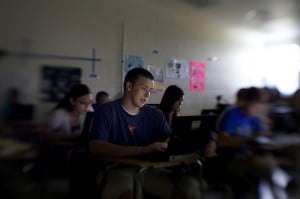 As a high school teacher, I often run across the road blocks my school district has set up to inhibit students from using social networking sites during class time. Much like parental controls this is tactical maneuver from schools intended to protect the students. Unfortunately it's not unlike sticking a finger in the proverbial damn. The plethora of social media sites that high school students have access to is astounding. And which ones are popular or trendy changes on a weekly basis.
So while the district blocking may keep students off Facebook and a select few others, it's impossible to block every social media site and parental contols can only do so much. Not to mention the fact that many enterprising students know how to circumvent the blocked sites, or simply avoid computers in favor of their smart phones.
I can readily say that opening the doors to social media in schools would be an asset, not a pitfall. The technology-rich lesson possibilities are staggering. In addition, integrating social networking in the classroom opens the door for conversations regarding using social media responsibly, and includes the added bonus of students being excited about the media format of a project. Social networking is a constant presence in the life of a high school student. So why not integrate that technology in the classroom and have them use it for a constructive purpose rather than a way to "tune out"?
-Artile Contributed by Kristen O'Rourke