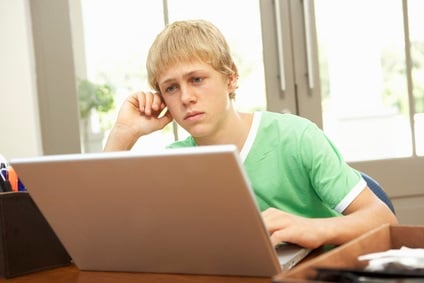 If your child becomes the victim of cyberbullying, will he or she have the tools to cope? Parents of cyberbullied kids can do a lot to help, but one important one is making sure that they have access to positive role models. One of these is Ghyslain Raza, more popularly known as "The Star Wars Kid".
In 2003, Ghyslain Raza was an ordinary ninth grader in Quebec. He was trying out for a school Star Wars skit, recording himself stage fighting with a golf ball retriever for a light saber in his high school's TV studio. Without his knowledge, classmates found the video and posted it online, where it became one of the first viral videos on the Internet.
That was 10 years ago, and Raza just gave his first interview on the subject. In Maclean's magazine, Raza describes some of the cyberbullying that resulted from the video: kids would exaggerate his moves on table tops and tease him so mercilessly that he had to finish most of his education with a private tutor instead of at a traditional high school.
Worst of all were the comments he read about himself online. Some people were supportive, but others suggested that he kill himself. Raza says he didn't think about ending his life, but some bullying stories don't end that way. Some victims actually do commit suicide. So he wanted to tell bullied kids that they weren't alone, and things were going to be okay one day.
If you're the parent of a cyberbullied child, get your child help from supportive friends, the school, and the police. Seek professional help if your child becomes depressed or suicidal. As a parent, you can offer emotional support and provide them with role models like Ghyslain Raza to let them know that they can survive cyberbullying.
Many parents are still in the dark about cyberbullying. Become informed with our eBook: "10 Essential Things Every Parent Should Know about Cyberbullying." Download your free copy today!