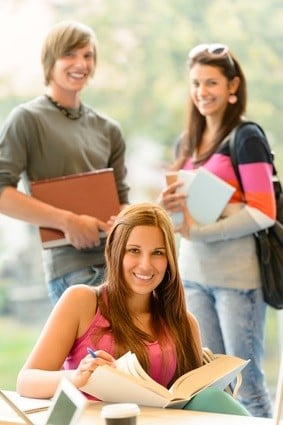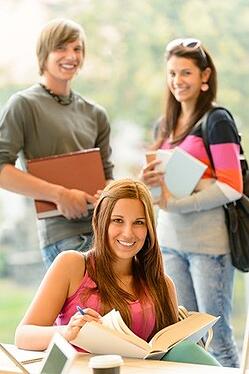 In today's world, if it isn't digital, it isn't going to last. We live in a high-tech, fast paced world where everyone is trying to make normal day-to-day tasks more convenient and less stressful. With children as young as six playing with iPhones, iPads and other electronic devices, companies are coming out with new and improved ways to manage your life by utilizing your gadgets!
As a digital parent, don't punish your child for spending too much time on electronic devices -- instead, take advantage of these products by urging connected kids to start using apps that help them with their homework and can increase their grades! App developers have been hard at work over the past decade trying to keep up with the constantly changing technology market. Every day, new applications are released for electronic devices that are designed to simplify your life and help you prioritize what matters. Connected kids who are hooked to their electronics can start to use their devices to help with school and homework- transforming their phone or tablet into a portable tutor and making digtial parenting easier.
Apps designed to help connected kids with their homework are becoming popular across all platforms. These apps are typically subject specific and are a great way for your child to learn outside of the classroom. Admit it parents. Sometimes, we don't have all the answers! With homework help apps, students can take their education more seriously and benefit from a wealth of knowledge- all at their fingertips.
Best Apps for Homework Help
1. For kids between four and eight, "Word Wonderland" is a fun and educational app to help kids grasp basic phonics skills. Students can practice long and short vowels, blends, digraphs, r-controlled vowels, words ending with –le, dipthongs, word families and more with this engaging game. With three different levels of varying difficulty, "Word Wonderland" is designed to train and improve fifteen different skill sets that work on reading and phonics skills. This app is an excellent way to improve a child's reading ability, as well as their ability to complete English and Grammar exercises on their own.
2. Connected kids who aren't big fans of math may greatly benefit from "BuzzMath Middle School". This educational app designed to help middle schoolers with mathematics. This app offers structured practice for all math skills required for a solid middle school foundation. With over 2,800 exercises, even the fussiest child can find an exercise they enjoy- one that helps them learn basic math skills as well!
3. The "myHomework Student Planner" app is an extremely helpful app for students that doesn't focus on any subject at all. Rather than helping students complete their homework, "myHomework Student Planner" is an easy to navigate planner kids can use on their phones or tablets to keep track of all of their assignments and tests. Prioritizing is a difficult task for people of all ages, especially kids, so encouraging your connected kids to utilize apps like "myHomework Student Planner" not only helps them complete their assignments in a timely fashion, it also helps them learn to prioritize the "to-do's" in their life- a much needed skill in life.
4. If kids are using apps on their phone to help them with their homework, they probably aren't typing up their papers on typewriters. Times have changed and this digital day and age has created a whole world in cyber space that prevents students from ever having to print a paper, find an assignment, or explain why the dog ate their homework. "My GradeBook for Student Grades & Homework" tracks all of the student's homework, tests, grades and is extremely customizable. Not only that, but through the app, students can upload papers, assignments and homework digitally via the cloud on a site called "Dropbox"- an FTP site that allows the student to share documents with their teacher with the click of a button!
5. Good old fashioned studying has been recreated with this "FlashCards++" app! This easy to use app is great for students of all ages and sets up digital flashcards that can be used for studying. All flashcards are completely customizable. The flashcards can be uploaded from the app to a students computer via "Dropbox".