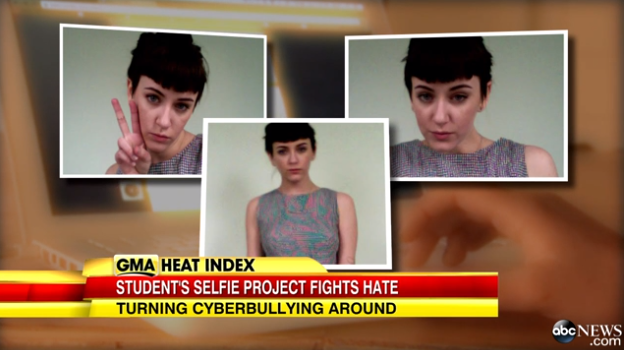 Check out the inspiring article below, originally published on Yahoo!, about one woman who is turning cyberbullying on its head. And make sure to follow this link to see the awesome video!
Maryland College of Art senior Lindsay Bottos, 21, was so sick of the cruel anonymous comments about her selfies, that she decided to fight back.
Instead of hiding from the hateful messages, the photography student gathered them – and turned them back against her tormenters. In a compelling and artistic plea for change, she's layered images of herself with the devastating words.
"I've always gotten anonymous messages that were really hateful, especially comments about my appearance," Bottos said. "I've basically been screen-grabbing them and saving them for something, and decided to do a project."
The project serves as a stark illustration of the contrast between cowardice and bravery. Appropriately, she called her creation, "Anonymous."
Bottos' decision to put a spotlight on those ugly comments – even at the risk of public humiliation – has generated a rush of positive commentary. She hopes her project will help girls maintain their self-esteem, especially given online attacks.
"I think that we really should be concerned with women's self-esteem, especially girls and women online," she said. "I think it's so important, and if this project can help the way girls are treated online and help anyone with their self-esteem at all, I think that's amazing."
Clinical psychologist Dr. Jeffrey Gardere said the Internet exposes peoples' dark sides.
"More than anything, there's really no consequences to the things that are said. You can be ugly, you can be very inappropriate, you can say the rudest, most horrible things and you don't have to pay the price. You have the cloak of invisibility," Gardere said.
Become more informed with our eBook: "10 Essential Things Every Parent Should Know about Cyberbullying." Download your free copy today!
Click here for the full video.