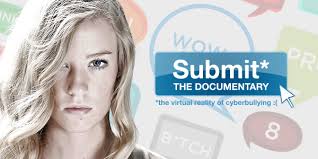 "If what was going on online was happening in the real world, there would be people marching. There would be social change." - Mary Kay Hoal, Submit The Documentary
Submit The Documentary is an honest and heartbreaking film that focuses on the raw reality of cyberbullying and the effects it has on America's youth. After watching a news story that reported on the suicide of an 11-year-old boy, director Les Ottolenghi saw the need to encourage parents and their children to stand tall and fight against this epidemic of online bullying.
Production on the film began in 2011 and focused on gathering the perspectives of experts, school administrators, children of various ages, and parents of the victims whose lives were cut short. Each interview supplies the documentary's audience with substantial insight on the truths that surround society's efforts to fight cyberbullying.
While the film is an educational tool to help parents understand the dangers that exist in the world of social media, it goes one step further by using experts to dissect the numerous solutions that have been proposed. As viewers listen to the advantages and shortcomings of each resolution, it becomes clear that restricting online use and creating laws to curb online abuse can not solve the cyberbullying epidemic alone. Instead, the documentary highlights the importance of combining multiple solutions to protect our children from this fast growing and extremely serious problem.
The interviews in the documentary that have the largest impact are the ones given by the parents of victims. The true reality of this horrendous issue is laid in front of the audience as they listen to each parent retell the events that led to their child's death. After watching these people share their stories, there is no denying the importance of finding a way to stop the relentless harassment that takes place on social media websites.
The underlying theme of the documentary emphasizes how critical it is for parents to educate their children on the dangers of the internet and the devastation cyberbullying can cause. If you or a parent you know is unsure on how to start a conversation about cyberbullying with a child, consider sitting down with them and watching the G or PG classroom version of the film. Finding a way to Open the lines of communication between you and your child not only helps them from becoming a victim, but it also encourages them to inform you if they witness someone else being cyberbullied.