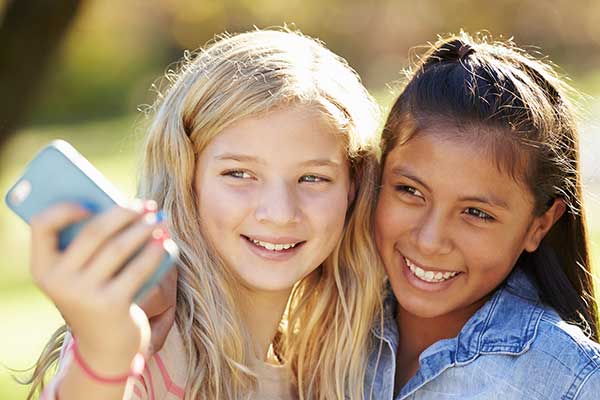 As the popularity of the photo sharing app Instagram continues to grow, so does its user base. Children watch their older siblings and peers using the smartphone application and begin using it in order to fit in and feel trendy. Although there is nothing wrong with young children trying to keep up with the latest technology, it is important to weigh the Instagram pros and cons before letting your young children start using the app.
Instagram Pros and Cons
Pros
One of the greatest features of Instagram is its privacy settings. This ensures that outside users--people who are not following you--have to request your permission to see your photos. This helps ward off strangers and potential offenders who could possibly cause harm through their comments.
When used safely, Instagram can be a positive, self-reinforcing application. Likes and comments on a picture can help boost a child's self-esteem and make them more likely to maintain friendships. It is also just one more way for children to keep in touch with long-distance friends and feel like the photographed events in their life are important and worthy.
These days, many social media apps have found ways to seamlessly combine. Twitter, Instagram and Facebook especially have a very intertwined and transparent relationship. Being aware of these interconnections can help a parent or guardian stay up to date on what a child is doing and how they are using Instagram through other social media apps.
Cons
Although the ability to tag a location can come in handy for businesses and those in charge of travel destinations, it can be dangerous for minors. Location tags make it incredibly easy for a follower to find out exactly where and when a picture was posted. As harmless as a location tag may seem to a child, predators and those with bad intentions can use them in the worst of ways.
The rise of the quick photo sharing app Snapchat has prompted other mobile applications to follow suit. Instagram now has a direct photo messaging feature that allows friends to Instagram private photos to one another. This is a prime spot for sexting because it is a fairly new feature that many parents do not yet know about.
Hashtags are extremely useful for people looking to draw more followers to their site. However, a user who is not private can attract negative comments or explicit followers by choosing the wrong hashtag. A young girl may think it is perfectly safe to hashtag "pretty" or "cute," but predators may seek out those exact terms and find them in an instant.
Although there are many pros and cons of Instagram, talking to your child about making positive choices is the best way to stay safe on the app. Parents should also keep tabs on the digital lives of their children in the way they keep tabs of their daily lives.
On Androids, Bark can monitor photos, videos, searches, and direct messages. On iPhones, Bark can monitor photos and videos. This award-winning service can alert you to potential issues on Instagram such as cyberbullying, sexting, and online predators.