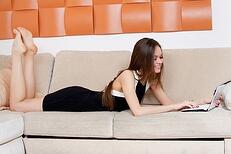 Sexting. To a parent's ears, even the name is scary. Here are some of the straight facts about sexting, who is doing it, and why. And most importantly, how to talk to your kids about why it can be dangerous.

Sexting is using mobile technology to send a suggestive nude or semi-nude picture of oneself to someone else. It's been around since about 15 minutes after the invention of the camera phone and the text message, but has gotten much more prevalent in recent years now that so many teens and tweens carry around their own personal cell phones.

From The National Campaign to Prevent Teen and Unplanned Pregnancy, here are a few of the facts about sexting:
20% of teens have sent nude or semi-nude pictures (39% say they have sent suggestive or sexual messages that are text-only)
70% of teens who admit to sexting sent photos to a significant other; 30% sent them to someone they wanted to date or "hook up with;" 15% of them sent the pictures to someone they'd only met online
29% of teens say they've seen sexts not meant for their eyes (i.e: kids are sharing or passing around the suggestive pictures they receive)
Kids as young as 13 are sexting, sometimes without really even understanding what they're doing. That's why it's important for parents to keep an open dialogue with their kids and be clear on what their expectations are for mobile communications.

There are many dangers to sexting that kids need to be aware of. Authorities are cracking down on sexting, often charging teens who send or receive sexy texts with possession or distribution of child pornography if the photo is of a minor. Just this month San Bernardino County sheriff's deputies said that they cited four 15-year-old high school students for sexually exploiting a minor after they distributed nude and seminude pictures of eight girls, ages 14 to 15 on a popular social networking site. The point can not be made more clearly to our children - kids can be prosecuted and they can be branded a sex offender for life.

Racy pictures sent on the spur of the moment can also never be taken back. Once they are out of your hands, you no longer control who sees them or how they are used. They could get posted on the Internet or passed around the school. In many cases, angry ex-boyfriends or ex-girlfriends send around sext messages from a past relationship to embarrass or humiliate their ex.

Perhaps the most dangerous thing of all is that teens are likely to appear more sexually aggressive when sexting than they normally would be in person. Sexting sends a message about the sender that often leads to an expectation of risky or promiscuous behavior in real life.


Teenage sexting is a rampant problem, with 1 in 5 teens saying that they've sent one themselves. Make sure that kids know what the dangers are in sending these messages, and why it's never a good idea to disseminate private pictures when they have no control over what happens to them next.

The single biggest deterrent to this risky behavior is mom and dad. Research shows that when parents open up and maintain a regular dialogue with their children - risky behavior decreases. Talk about stories in the news and the impact on the children involved. Provide your children with alternative ways to express themselves and help them to understand the realities I've highlighted. Without parental involvement, our kids are far more likely to make decisions they will regret later.
-Article Contributed by Jenny Evans