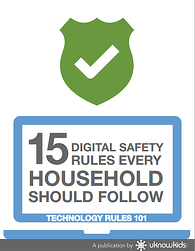 We have released our newest eBook, and this one is most definitely worth a read! Do you need some help laying down the law when it comes to digital safety rules in your household? Are you looking for some useful tips to keep your family safe on all of their gadgets? Then our eBook "15 Digital Safety Rules Every Household Should Follow" is perfect for you! Here are just a few of the 15 rules that we think every digital parent should enforce:
Lock Down Privacy Settings

Shut It Off & Get Some Sleep!

Follow the Golden Rule Online

Save It & Report It!
Download now to learn more about the above rules and many more great tips to follow! Feel free to share with family and friends also!