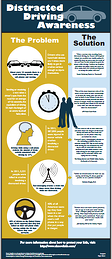 Did you know that April was Distracted Driving Awareness month? In an effort to bring you information about the latest digital dangers and trends, we have created an infographic that outlines the problem of distracted driving throughout the United States and then provides solutions that we gathered from industry leaders, experts and doctors.
After downloading this infographic, you will learn:
How often a crash happens because a driver is using his/her cell phone

How much using a phone reduces the amount of brain capacity associated with driving

How many American teens admit to using a cell phone while driving

Comprehensive solutions to distracted driving
Download now to start protecting everyone, especially teens, from the dangers of distracted driving. Feel free to share with family and friends!