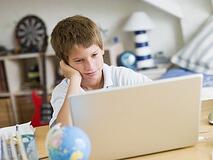 uKnowKids has created another SlideShare to help you manage digital parenting. This latest SlideShare includes lots of information on how to protect you and your family from online identity theft. Did you know that the total financial loss attributed to identity theft in 2013 was $21 billion? Don't let your family be a statistic. View this SlideShare and learn:
why the internet makes identity theft easier,

how identity theft can affect your child (children are being targeted for identity theft 35 times more often than adults!)

what to do if you identity has been compromised

and more!
Protecting Children from Online Identity Theft from uKnow.com
If you are interetested in learning more about identity theft protection and statistics on the subject, download our eBook today!