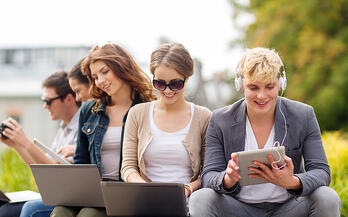 EduHookups.com is currently only available to college students, but watch out parents. That's how Facebook started.

The site's "about" page says that eduHookups is for "students that believe working hard and having fun are not mutually exclusive" and encourages visitors to "register and put themselves out there." Indeed. In a nutshell, eduHookups is basically a site for arranging casual, no-strings-attached sex with strangers for students at a select number of colleges and universities across the U.S. (right now, 25 and counting.) The site assures that it's "safer than using Craigslist" because it requires a .edu email address to register and hang out in the site's chatroom or respond privately to the public "listings" of students.
Of course the "safety" page at eduHookups gives homage to safe sex but doesn't even mention the dangers posed to students (especially female students) whenever they arrange to meet a stranger for anonymous sex – very real dangers that are not eliminated by requiring an .edu email address. Sexual and physical assault happens on college campuses, too.

Don't leave your child's Internet safety education up to sites like eduHookups that provide a false sense of security and put your child at risk. Talk about what could happen when you meet people you only know online and realize that kids who've grown up on Facebook might not see the obvious dangers you do. And it might also be a good time to talk about your family's values and expectations when it comes to sex and relationships, too.