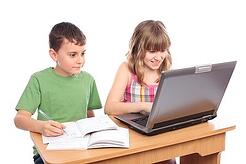 Like most families today, our family sees the Internet is an indispensable part of life as we know it. Letters written laboriously with a pen or pencil? Looking up phone numbers in a 3-inch thick Yellow Pages? Opening up a bound encyclopedia for information? Honestly, I couldn't imagine going a day without the Internet.

Even with all its charm and convenience, I have to say that seeing my oldest child reach the age where she's starting to get online makes me more than a little apprehensive.

As a parent, I try to shield her from things that could be dangerous for her, and right now I have complete control over what comes into my home. But when she starts using the Internet, I know that there are lots of sexually explicit or violent images that she could potentially be exposed to.

The boundary between kids and online pornography is dangerously transparent. And it doesn't just affect kids who are actively seeking out graphic material online. According to the Crimes Against Children Research Center, 25% of children have had unwanted exposure to sexual pictures in the last year.

Kids with their own email accounts, particularly free ones like Hotmail and Yahoo, inevitably get lots of spam ads for penis enlargement and "lonely girls who want to chat with you" delivered right to their inboxes.

Or they could be doing their homework and be exposed to graphic images online by accident. Try it yourself – type a female celebrity's name into Google and click the "images" link on the upper righthand corner. The odds are pretty good that at least one suggestive or inappropriate image will come up – or more, depending on the celebrity. And Google images does not censor its pictures. Full-frontal nudity and graphic acts show up in image searches, regardless of the age of the child at the computer screen.

To compound the problem, Internet pornography is often much worse than the magazines kids a few decades ago might have passed around at school. Ernie Allen, CEO of the National Center for Missing and Exploited Children, explains that online porn "is not your father's pornography. It is graphic, it is explicit, it is deviant. It is aberrant. Kids are seeing content that no 12 or 13 year old is mentally, psychologically, or emotionally prepared to deal with."
If you're like me, at this point you're wondering if just shutting off the Internet altogether isn't such a crazy idea, after all. But it's not feasible in the long run, and it's failing to address the real problem. Even if kids aren't exposed to online pornography in your own home, they could accidentally see it in a friend's house or even at the computers in the school library. Teach them how to react when it happens: close the browser window and tell you that they've seen an explicit image online.
Internet pornography is a serious problem for 21st century parents, and it needs to be addressed. Taking the following steps will help you manage this issue in your home:
Put the computer in a public place in the home.
Talk together about what type of behavior is acceptable online, and make it clear that violating the rules means that Internet privileges will be revoked.
Most importantly, encourage kids to tell you if they are exposed to something inappropriate online so that you are aware of it.
Take a moment to review the KidSafe Internet & Mobile Safety Pledge with your children and post it near the computer where it will be visible to everyone.
-Article Contributed by Jenny Evans