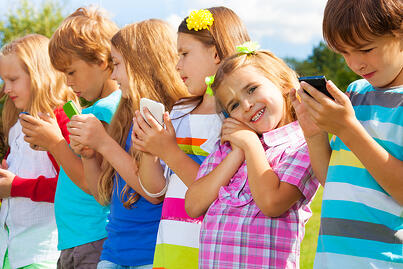 Things were sure different when we were kids. If we needed to call mom and dad away from home, we had to find a pay phone. But cell phones are becoming more and more common with our kids, even among those as young as 6 years old.

Kids and Mobile Phones

In 2008, 51% of 12-year-olds owned cell phones, up from 18% in 2004. Among tween mobile phone owners, the average age of receiving the first phone is 10 or 11.

Parents are ostensibly providing their kids with cell phones so that they can keep tabs on them, stay connected, and make sure their kids always have access to help when they need it. But what is a 7-year-old doing with his phone, anyway?The good news is that the cell phone is indeed a valuable tool in keeping kids in touch with their parents and out of trouble. The most common use of the cell phone for kids in the 6-12 age range is calling their parents, followed by calling friends, emergency purposes, text messages, and gaming.

Giving the First Cell Phone

Evaluate your child's readiness for mobile phone responsibility and do your homework before buying his first cell phone.

Many phone manufacturers are now producing kid-friendly phones geared toward the 6-12 age bracket: some only allow calls to numbers pre-programmed by mom and dad, others block texting capabilities and internet connectivity.

When you finally make the purchase and hand over the cell phone, don't do it without a contract. Sit down with your child and outline your expectations for use of his phone. Draw up a list of rules and the consequences for breaking them. Make it clear that having a cell phone is a privilege, not a right. If you are not providing a phone designed specifically for children, your it is best to then skip right past the "feature phone" and go straight to the "smart phone" such as a Blackberry or Google Android device. Smart phones are able to support the use of monitoring software such as the service we provide. Feature phones typically allow all of the functionality that can get kids in trouble but they don't allow robust monitoring tools.

Cell phones can be invaluable tools to keep your kids safe in today's increasingly dangerous world, but only if you also provide them with the information they need to use their cell phone responsibly.