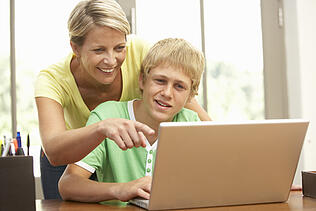 In March, Ashleigh Hall's name was splashed across newspapers everywhere after her body was found in a ditch. The 17-year-old had done something that a worrisome number of teens do: made a new friend on Facebook and gone to meet him.

A 2006 survey commissioned by Cox Communications with the National Center for Missing & Exploited Children reported that:
71% of teens reported receiving messages online from someone they don't know
45% have been asked for personal information by someone they don't know
30% have considered meeting someone that they've only talked to online
14% have actually met a person face-to-face that they've only talked to on the Internet (the figure for teens ages 16 and 17 jumps to 22%)
In Ashleigh's case, her new friend was a predator who had lied about his identity, posing as a 17-year-old boy. Many were quick to point fingers at Facebook: can't they do more to prevent people from lying about who they are online?

Perhaps the answer is yes, but the fact is that parents need to protect their kids starting right now. Predators on social networking sites can lie about who they are all day long, but if your child never takes the bait then he or she will never become a victim.

The best defense against child predators is an educated child. Sit down and establish some online safety rules together, like:
Never friend anyone you don't know in real life (or perhaps anyone the parents don't know!)
Don't chat with strangers in chat rooms
Always be suspicious: people aren't always who they say they are online
Don't give out information about yourself or your passwords
Pay attention to your gut and leave any conversation or website that feels uncomfortable to you for any reason
Parents also need to talk with their teens about their expectations regarding sex, drugs, drinking, and swearing – those translate to expectations about online behavior, as well.

After you've talked it out, be sure to follow up. It is our responsibility as parents to educate our children about these important topics so think about this as an educational topic like Algebra or driving a car. Both the math teacher and driving instructor continue to monitor performance and provide feedback long after the initial lesson. It isn't a secret to our children that this is going to occur so set the same expectations with your children about the Internet and mobile safety lessons you teach. Let your kids know that you'll be monitoring their behavior and staying engaged. In fact, just knowing that you will see who your child befriends online or what they post online or text will affect your kids' Internet usage for the better.

Be upfront with your kids about your intentions. You don't need to ask for permission for or feel uncomfortable with a position that you already have - Parent. That role gives you certain rights and responsibilities. When we are sneaky, we undermine our role as the primary role model-teacher in our kids' lives. We teach our kids it is okay to be sneaky and our own behavior become a distraction to the important lessons we are trying to teach about safety, responsibility and maturity.

When we "catch" our kids doing things right - be sure to tell them and provide positive reinforcement. If you identify behaviors that need to be changed then provide corrective feedback right away and revisit the lessons. If it becomes clear that the failure to apply the lessons taught are behavioral rather than a lack of understanding, provide consequences. It is important that children know that family's safety rules are not suggestions - they are rules and they are accountable for learning and applying those rules just as they are in the classroom or on the road when they can drive a car.

As a parent, you can never stress enough the importance of not talking to or meeting strangers from the Internet. And even if you've had lots of online safety conversations, remember that kids sometimes do dangerous things even though they know better. Go the extra mile to make sure your kids are using the protective measures they've been taught and stay involved long after the initial safety conversations. Your consistent follow up and involvement is what will turn your child's good choices into your child's good habits.
-Article Contributed by Jenny Evans