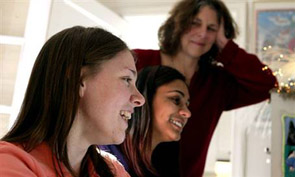 As parents, we all want to think the best of our children. However, sometimes they don't live up to our expectations. Even a child with the best of intentions can find themselves involved in the darker side of social networking. The good news is that parents can take some simple and free steps to begin effective parental monitoring.
Talk about your expectations
Kids can't follow a rule if it doesn't exist. Clear expectations must be set or your child is likely to make mistakes. The resource link on the uKnowKids homepage has free safety tips and an Internet & Mobile Safety Pledge for Kids. The safety pledge can help parents start the conversation with their kids about the importance of internet and mobile usage rules. It can also teach your child about the dangers of cyberbullying or sexting.
Location, location, location
Computers should be placed in common areas in the home to make parental monitoring easier. Letting your child use a computer in their rooms or behind closed doors makes it more likely for them to misuse homework time, or worse, fall prey to online predators and cyberbullies.Know what your child does onlineLearn what social network and internet sites your kids are using. A search engine's browsing history should tell what sites are viewed, but tech savvy kids know how to cover their tracks and delete evidence of inappropriate online behavior. If your child isn't likely to be open about their online habits, it is crucial for you to use parental monitoring tools.
Use parental monitoring tools
There are a variety of free parental monitoring tools available that can place limits on your child's access to the internet. Many block inappropriate websites and record your child's browsing history.
Parental monitoring has become a must since our kids are using potentially dangerous technology on a daily basis. Be proactive and create a plan to ensure your child's safety. For additional resources, parenting tips, and safety information, please visit the uknowkids website.
Like our content? Share it and win great prizes with the uKnowKids Ambassador Program! You could win an iPad Mini just by sharing a blog like this!