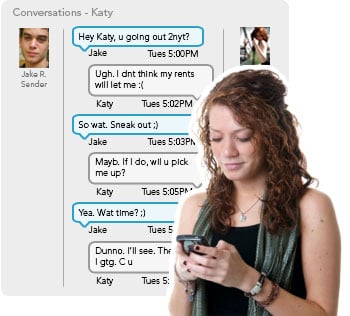 What you need to know about text message monitoring and digital parenting this holiday season.
Parents often want two things: to be the "cool" parent, and to be the parent that can trust their children no matter what. Unfortunately, in the age of texting and social media, trust is usually a luxury parents cannot afford. In fact, for young children especially, it's a parent's responsibility to monitor their children's online habits to make sure they are using the power of modern day technology safely.
Young Americans from the ages of 8 to 18 spend more than seven and a half hours a day on average using a smart phone, computer, television or other electronic device; additionally, a recent survey found that over 70% of teenagers alone use their phones for texting. Because of this, text message monitoring is just as important as maintaining a vigilance over a child's social media use. After all, while giving a child a cell phone allows them constant access to a phone in case of emergency and makes it easier for parents to communicate with their children during the day, there are a number of dangers that come with texting, which parents need to be able to watch for.
Some dangers of texting are more low-key than others. For example, children may be texting their friends when they should be doing homework or sleeping. These are bad habits that can affect a child's ability to function in school. Another problem seen in children is "text thumb," a repetitive strain injury caused by repeatedly using a thumb or finger while texting.
A bigger danger is sexting, or the sending or forwarding of nude, sexually suggestive, or explicit pictures from a cellphone or online; sexting is one of the most well known dangers of texting. If these kinds of images are taken and sent by children, and those images are found or go viral for one reason or another, not only will a child deal with the ramifications of those images socially - since they're under 18, the way the law is written, they'll also face charges for producing and distributing child pornography.
Because of these dangers, as well as risks like strangers contacting your child via texting or cyberbullying, it's crucial that parents seriously consider monitoring their children's text messages, at least until they are sure that their child understands the potential risks of texting and is ready to handle the responsibilities of texting on their own.
Keep your kids safe, and have a happy holiday!