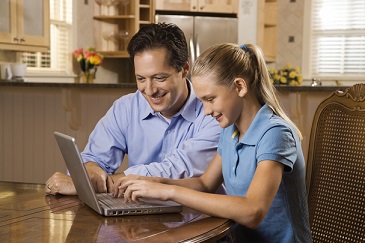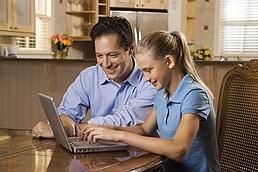 The world of parenting has evolved at a rapid pace in the recent past. Though the internet has been around for a few decades now, the access and content of this virtual world has changed drastically. Though we may not want to police our children to the point that they feel they are being virtually "jailed" we are right to set guidelines in this world as we would in the physical world. We don't hesitate to set boundaries about how far our children may roam on their own, and this same rule should apply to the internet.
Here are a few basic tenants to follow in digital parenting:
Children should allow parents assess to all of their internet passwords, which can include email. This is necessary in school, for parents must assess their children's homework through email and class websites. In addition to this, children should not have the freedom to own accounts that their parents cannot view. At some point in their adolescence a parent could revisit this idea, but it is certainly prudent to follow this guideline while a child is in their formative years.

Create a list of websites that you are comfortable with your child visiting. This could include sites like National Geographic, Sprout, PBS and other learning sites.

Set aside time in the week to research topics together with your child. They may want certain questions answered. However, if they are free to type these questions on their own, they may end up finding material you don't want them to see, even if you have parental controls in place.

Let your children know that you trust them, but that you don't trust what is available on the web. Gently remind them that if they encounter anything they feel uncomfortable with, or don't understand, that they can enlist your help at any time.

Keep the computer in a public room, such as your office, or the living room.

Do not let your child use a device in their private room unless they are of an age that you feel semi-private web surfing is appropriate.

Let your child know that digital parenting is a part of raising children today.
Try to be cognizant of the fact that your child can be exposed to more in ten minutes of free internet surfing than in a day out in the world. Though we all know that some of what is on the web is a part of our reality and our world, there is a time a place for your child be privy to these aspects of life. When you make rules about internet use, you are more of an active partner in your child's growth. Digital parenting is a part of today's world, and it is important for you to understand what tactics to employ to be successful in this new realm.
Looking for a way to keep your family safe and responsible at home? Read our eBook for rules and tips: "15 Digital Safety Rules Every Household Should Follow."