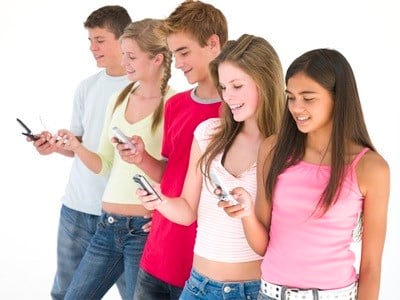 Our latest guest post comes from Ziqian (Cecilia) Dong, Ph.D., Assistant Professor, New York Institute of Technology. Here, Dr. Dong discusses how parents can help teens get smart and stay safe on smartphones, even if the parents themselves are a little in the dark when it comes to the technology.
The ever-changing, fast-paced world of the Internet and mobile technology presents unique challenges to parents of tweens and teens. We want our children to be computer-savvy and technologically literate, but safety should be our main priority. It's often difficult to provide parental guidance when we feel like we know less about the cyber world than our children. How can parents balance safety while giving their children freedom to explore their world through the Internet and their beloved smart devices?
Today's smartphones are miniature computers that provide many applications, from browsing the Internet and gaming to online chatting and online purchasing. In recent years, these capabilities ran only on home computers. Experts advised parents to keep an eye on their children's activities by setting up computers in central locations. Teens used the code "POS" or "Parent Over Shoulder" to warn their friends during online chats that a parent was in the room.
The world of mobile technology has changed all of that. We can no longer stand over their shoulders as they use their devices. As more kids are equipped with smartphones, the first step is to understand the risks and harms. As a networking device, smartphones are prone to similar risks posed to kids by the Internet, such as cyber bullying, online predators and identity thieves.
The gift of a smartphone must be accompanied by a frank and open discussion about risks. Parents should communicate with their kids about responsible behaviors on social networking sites. It's helpful to remind them that whatever content they post cannot truly be deleted. Talk about what information they should NOT post online, including social security numbers, home addresses, and vacation schedules. Reinforce the notion that they should stop and think before they post. Explain and set up privacy settings for their social network accounts.
Parents of younger children can teach them to use their phone to make emergency phone calls. Set rules for the time your children can spend on a smartphone and use parental control software to control content access over the Internet. It's important for parents to screen mobile applications before children install them on their phones.
As teenagers approach driving age, talk to them about the need to control their impulses to text or call while driving. Discuss the "it can wait" pledge at http://itcanwait.com/. Explain the facts clearly: texting while driving often has fatal consequences. It's up to parents to speak to all teen drivers – not only their own – as new drivers take turn chauffeuring groups of friends around. And remind younger children that texting or phoning while on a bicycle or skateboard is also dangerous!
If your children are interested in smartphones and technology, engage them in summer technology camps where they can learn more about programming, smartphones, and cybersecurity.
Mobile technology and its applications will continue to grow. While our "screeners" -- who have grown up spending more time in front of screens than any other generation -- are comfortable and confident with technology, they nevertheless need our help with navigating the risks, if only so they remain safe while they reap the rewards that technology brings to our world.
Family structures are changing. Learn how to be a good digital parent and keep your kids safe with this infographic.