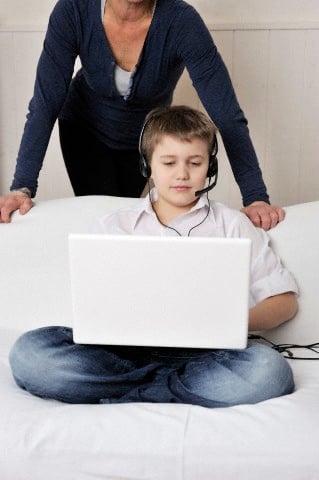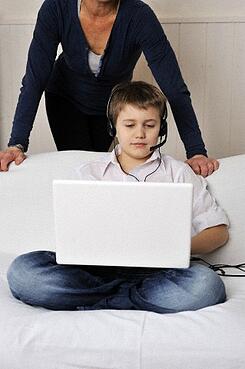 Parental involvement has been shown to have positive influences on a child's academic and social development. As kids get older, they naturally want to gain independence and trust. When parents are controlling, kids may question if their parents trust them and parents might feel like they're intruding. On the other hand, the job of a parent is to safe-guard in a reasonable and responsible way, leading both by example and by setting firm guidelines.
Set boundaries
Help your child make the right choices early on and by the time they're older, it will be habitual. By setting firm boundaries from the beginning and letting your child know that there are some things that are unacceptable, like posting nasty things about family members on Facebook or running up a cell phone bill that's astronomical, you'll avoid getting into the stressful situation one father faced that resulted in him shooting his daughter's laptop. Monitoring a child's digital interactions and social media climate through digital parenting practices can prevent rifts like this from ever happening in the first place.
Be a parent, not a friend
A child might think they have a right to privacy and in some ways, that's true. In others, however, it's not. A parent is, in many ways, legally responsible for the actions of their child, meaning that if a child wants privacy from their parents to go out and, for example, commit vandalism, parents are going to be responsible for the fine. There's no need for privacy there and, in fact, parents are remiss in granting it.
Of course parents want their kids to love them and enjoy spending time together. It's not always going to be the case that the two of you will be best friends, however, because the role of a parent is to also set firm rules and boundaries. The walls a child might see as imprisoning are the same walls that keep them safe.
Safety is number one
While a child might question whether or not they have your trust, explain to them the value you see in them. A sacrifice of safety just for a feeling of independence is not an acceptable choice because children are far too important to risk.
Communication is key
As kids grow older, they gain more independence and more autonomy. Talk to your kids about milestones for autonomy and independence. You're not equals but there should still be mutual respect. By discussing issues, fears, and goals, parents and kids can work together to build trust and responsibility. Trust them to make decisions for themselves within the boundaries that you set and verify that good decisions were made. Discuss problems and work out issues that result from a loss of trust because this is a foundation you'll build with them that will last a lifetime.
Parenting has become increasingly more complicated with cell phones and computers. Read about how you can keep up with it all in our eBook! Download "Digital Parenting: The Essential Guide to Raising Connected Kids" now.