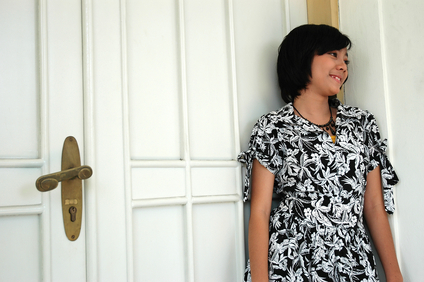 If big brother isn't around, Big Brother can keep an eye on your kids while you're away. The American Academy of Child and Adolescent Psychiatry estimates that thousands of children arrive home from school to an empty house every day. Furthermore, thousands of parents make the decision every week to leave children home alone. Once kids start reaching the tween ages, many parents allow them to stay home alone for a few hours at a time. This can be a bit unsettling—how can parents gain peace of mind while giving kids the independence they crave?
Home Security Systems
Today's home security systems go far beyond entering a code to get in the door. According to www.SecurityCompanies.com, smarthome technology allows homeowners to do everything from controlling the thermostat to accessing live video surveillance via their mobile devices. So if you'd rather not give out the code to younger family members, simply arm and disarm your home security system from your smartphone when you get the call they're at the front door.
FaceTime and Video Chat
Not that our angels would ever do such a thing, but it's fairly easy to lie about being home (with or without friends and significant others) when you communicate via text or phone call. Encouraging communication via FaceTime and Video Chat can give you the peace of mind of knowing your child is safely home and following your rules when you're not there. So, if Billy's supposed to come straight home from school to finish his homework, you can be sure he's actually there instead of hanging around the local skate park until five.
Online Security Settings
Laptops, tablets and smartphones should all have security systems activated before your kids use them. On a Mac, you can block websites by opening up the terminal and typing the following into the command line: "sudo/bin/cp/etc/hosts-original," which creates a backup. Hit enter. Then, type in your master password.
After logging in, type in "sudo nano/etc/hosts," and hit Enter to open up your hosts file. Underneath the last line of text, enter "127.0.0.1," followed by a space and the IP address of the website you wish to block. For example, "www.facebook.com." Control + "O" saves these changes, and restarting your computer puts them into effect.
Social Media Accounts
Lots of parents have their own social media accounts to keep up with their kids and their kids' friends. You can learn more about what your kids are doing and who they're talking to by making your own Facebook, Twitter and Instagram account to maintain an active role in their digital lives. This isn't just an outlet for snooping, though. Being active on social media also provides opportunities to learn more about your children's interests and goals, helping you grow closer as a family.
Emergency Plan
Kids need to be prepared for potential emergencies whether you're there or not. Make sure to keep a fire extinguisher in an easily accessible place, and ensure your children know how to use it. Have a list of phone numbers saved for various emergencies, including poison control and your local doctor's office. Review the steps your kids should take in the event of an emergency, and try to avoid potential accidents as much as possible by making microwaveable meals and installing smoke detectors.
Family structures are changing. Learn how to be a good digital parent and keep your kids safe with this infographic.