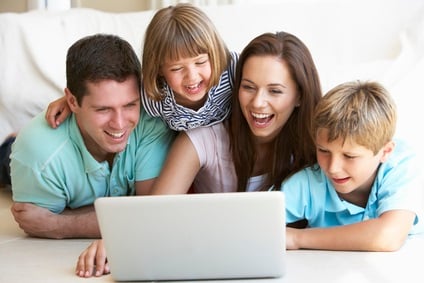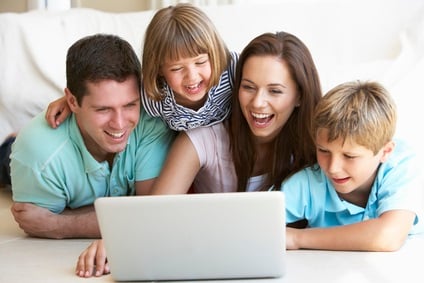 In a culture where both kids and parents are tied to their devices, no one can deny that technology has also changed the way our families interact and communicate. It can be tough to embrace technology as a family without encountering one of two extremes: the family that is never offline or the family that enforces restrictive, alienating rules. One way that you can overcome the "rule" barrier is by using parental intelligence technology that enforces the rules for you. Beyond the governance aspect, though, it may be helpful for your digital family to set goals for how you will take a stance on technology. Setting goals for your digital family's technology use will not only make your family feel more positively about what could be viewed as more restrictive ideas, but the concept of family goals also provides a great forum for family discussion and bonding. Here are some ideas to consider including in your family's list of technology goals:
We love technology: If your digital family loves to play with the latest gadgets, embrace that! Make it a family tradition to wait in line together for the latest technological toy or for a great sale on a device you all love
We are not screen addicts: Make it a family goal to spend quality, technology-free time together. Whether your goal is to put your smartphones and tablets to bed after dinner a few days a week, or even just to set aside dedicated "power off" days, this practice will establish important boundaries and ensure that your technology does not interfere with your cherished family time.
We respect each other's privacy: Establish mutually respectful boundaries with your family. Promise not to snoop unless there are serious concerns about safety. The best part of this goal is that everyone will hopefully return the favor and not post pictures of your open-mouthed car nap on social media (or maybe not!)
We don't cheat: From plagiarism to pirating, the web is full of ways to get in trouble from both an ethical and legal perspective. Decide as a family that you won't be those people. Yes, that means that you won't be able to illegally download the latest new movie theater releases, but it also means that you will teach your children to take the higher ground.
We take a stand: With the prevalence of cyberbullying, it is important that your family not only behaves online, but also does not participate in anyone else's misbehavior. As a family, make it your goal to always take a stand when it comes to any kind of internet harassment. Good practices include blocking people on social media that post harassing content, reporting inappropriate content or behavior and refusing to engage in any incendiary discussions that could cause trouble
We are polite: Everyone knows "those people" that can't even carry on a full conversation without checking their texts, emails, or social media. You don't want to be that family with the reputation of being rude in social settings…so decide not to be! As a family, you'll make a positive impression in public when there's nary a beep, buzz, or beckoning from your phones.
Family comes first: Most of your family members have a calendar at their fingertips 24/7, so use it! Don't schedule a shopping date when you promised to be at a sibling's big soccer again. Furthermore, update your calendars to tune everyone into your schedule. PTA meeting on Thursday night? Great, your 15 year old will know that she has to find a ride to the concert she plans to attend. The practice of keeping in touch and communicating about your schedules will not only pay off now, but it will help keep your family connected throughout the future.
The digital family has some additional challenges to overcome in terms of how they communicate with one another, how they spend their time, and how they interact in a social environment. Instead of trying to restrict your family's technology use with long lists of rules, embrace your status as a digital family and establish common goals to help your family stay happy, connected, and safe.
Looking for a way to keep your family safe and responsible at home? Read our eBook for rules and tips! 15 Digital Safety Rules Every Household Should Follow