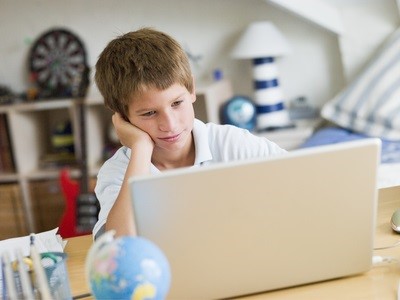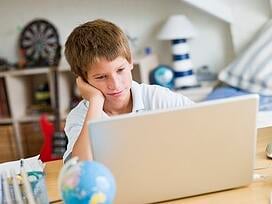 My niece has a smartphone.
Up until a year ago, I had a flip phone. And the screen didn't even work. Once I finally upgraded, my niece had to sit me down and explain all the features of my new phone. Sound familiar to you?
If you're a parent who still fires up the PC, or thinks they're tech-savvy because you use a laptop, or even if you navigate well through your apps and smartphone features, beware: Your kids learn faster than you do, especially when it comes to managing their digital footprint on the Internet.
How can parents combat the knowledge that allows preschoolers to instinctively pinch and swipe a touchscreen when we sometimes struggle with a mouse? Here's a list of real-world tips for protecting kids online that will keep you at least in the same neighborhood as your offspring while they surf, connect and play online.
1. Learn about the device
Nothing's worse than that moment you confiscate your kid's tablet, fumble around angrily, then have to ask, "how do you turn this thing on?" Few things swing the disadvantage harder than ignorance.
AT&T has a site with tutorials for use of tablets, smartphones and netbooks. Refer to the user manual too. Also, look out for non-verbal cues, such as when your kid turns the screen away from your view, quickly changes screens, or seems jittery about who is near him when he uses the device.
Set this rule: Devices are subject to unannounced checks of history – the collection of sites visited. Be aware of cleaned caches, which indicate a child has erased the record of sites visited.
2. Stay involved
Talk to your child about what you do online – sites you visit for news or fantasy football, social media, or diversions. The web can be something you share, and they might even tell you about their favorite sites.
Although many kids will just want to find a place to play by themselves, many kids sites, such as StarDoll and Girls Go Games, contain a social element. Users can create profiles and avatars and interact with others. Sites such as these can be proving grounds for whether your child is ready for social media.
Set this rule: Children must use their devices in a common area, such as the living room. If you also follow this rule, you set the expectation that none of our online activity need be secretive.
3. Don't trust
We too were curious at a young age. Kids will wonder. Kids will explore. For us, that might have meant a peek at an adult-only cable channel or magazine. Today, a kid's curiosity could lead to strangers who gain access to personal information or images that are near impossible to truly get rid of.
When you snoop around on your kids' devices, you'll learn more about how they work. You'll discover what apps and sites they visit. And you'll more likely find evidence of images and searches they thought they wiped out when they cleared their history.
Learn how to help your child set the best privacy settings for their accounts, too, and check in on how their profiles look to the public.
Set this rule: All devices must be put into a community bin at night. Don't tell them why. The idea that you're going to be on the device after bedtime should give them pause during the day when they consider a visit to a questionable site or participation in an ill-advised conversation.
As parents, we must keep a steep learning curve to keep up with our kids. They grow up in a technologically advanced age, and if we are to protect them in it, we have to know our stuff.
Recommended social media sites just for kids
1. Everloop
Ages 13 and younger
Everloop is built for ages 8-13, although younger kids and those as old as 15 are admitted. Access to groups and capability to add friends is possible only with parental approval. Activity is easily tracked.
2. Kidz Social
Ages 7-13
Adults aren't allowed as users on this kids' answer to Facebook. A parent's email is required for registration, and notification of activity is sent to that account.
3. Kidz World
Ages 9-16
Users can chat, blog and even get homework help on Kidz World. All activity is monitored, and the site is set up in a way that makes the exchange of personal information impossible.
-Article Contributed by Alexis Caffrey