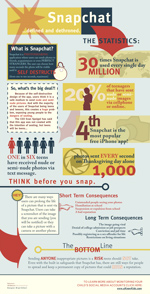 With Snapchat making the headlines a lot the past few weeks, uKnowKids thought it would be very helpful to decode this app for you and show you exactly why using this app as a means to send nude or semi-nude pictures is a bad, bad idea. And why sharing intimate photos in general is never a good idea.
Snapchat is a unique app that lets users take and then send pictures to a contact with a self-destructing timer on them. When the timer runs out (1-10 seconds max), the picture is gone forever. Many tweens and teens think this feature provides security and are using this app as a means to send intimate pictures---
but this is a very, very bad idea. Download our infographic now to find out why.
Think this is a fool-proof way to sext? Think again.