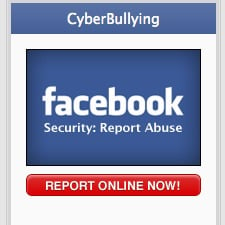 It's a common question when kids start hitting their tween years. They begin to grow larger friend groups, become more entwined with their social circles, and form new connections. They're beginning to develop some independence from mom and dad, and with that, the question always comes up: "Mom, Dad, can I make a facebook?"
Of course, this begs the question from moms and dads everywhere: How do I prevent cyberbullying? After all, today's news is rife of stories of children using the internet to harass one another, sometimes to the point where young lives are lost. It's a reasonable fear, and a difficult question to answer. The answer, of course, is to monitor your children's facebook page to ensure that communications are appropriate. Of course, there is always a balance between monitoring your children and giving them some level of independence.
The act of monitoring your child's social media accounts is not an unusual one, either. According to the LA times, almost two thirds of American parents monitor their children on facebook, and with good reason. In an era where the internet gives anonymity to almost anyone, kids are liable to make poor decisions. The worry isn't just that your child will be bullied, either. There is just as big a concern that your child will become the bully.
Just take this recent story from Newberg, Oregon, where an unknown student from the local high school set up a 'blast page' expressly for the purpose of harassing and demeaning other students. No one knows who set the page up, and those that do aren't telling. Although incidents like this are expressly against facebook's terms of service, the site is not well-policed and incidents such as these may go unnoticed if parents are not vigilant. A bit of monitoring could have easily prevented this instance of cyber bullying.
Of course, there is always a balance when it comes to monitoring your child's online activity. This huffington post article puts it well: monitor your kids, but stealthily. Keep track of what they're doing and posting, but don't harass them about every single thing they post. Keep track of their activities without making them feel like they're being monitored every moment. That way, you have the ability to make sure the decisions they're making are the right ones without them feeling the need to actively hide things from you.
Of course, don't let your guard down, either. If you have a specific concern, ask your child about it. More often than not, when approached calmly and with respect, kids are willing to talk about the issues they face. If you are still concerned about a serious issue, such as cyberbullying or self-harm, it may then--and only then--be okay to snoop.
Monitoring should also be appropriate to your child's age level. Your college-age son or daughter who lives away from home shouldn't necessarily have to fork over his facebook password. If the child in question is thirteen or even fourteen or fifteen, though, such a measure is perfectly reasonable. Keep in mind that kids gain more independence as they grow older, and they'll be more receptive if you pull back the reins a little to give them some growth room.
Using these tips, you can prevent cyberbullying, both perpetuated by your child and perpetuated by others. Although it is a sadly common phenomenon among today's youth, preventing it is easy. So keep vigilant and make sure you keep track of what your kids are doing--without being invasive.