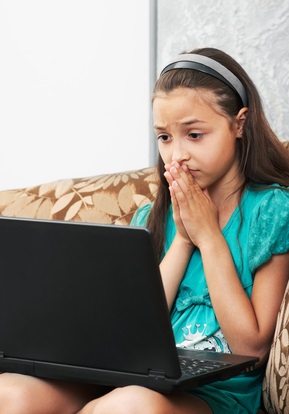 On YouTube, videos of fluffy kittens or a singing mouse can quickly take a child down a "rabbit hole" and a journey to explicit videos. According to one study, children on YouTube can typically get to inappropriate material such as nudity and violence in only three clicks.
Take Rastamouse, a popular children's cartoon on YouTube, for example. While watching this child-friendly material, the viewer can scroll through "Suggested" videos on the right side of the webpage. These "Suggestions" range from more cutesy cartoons to music videos with vulgar language to other inappropriate things.
This distracting offering appears with almost every YouTube post. Most "Suggestions" are on-topic, but there are always a few that stray. The divergence in topic ironically serves as the connection for children to view adult material.
Another misleading feature of videos posted on YouTube is their titles. The person uploading a video chooses the title. However, YouTube does not filter video content to ensure that footage matches the title.
This issue has led to videos targeted at innocent viewers with titles such as "Cute Video for Kids" that actually contain violent, graphic, explicit, or vulgar content. I've seen these things first-hand and was shocked.
Sponsored Ads are shown at the top of each YouTube search results page. These ads can also instigate a link to inappropriate material. Even when searching for a specific theme, unrelated sponsored ads appear as the first results. When searching for "kid friendly videos" today, Old Spice commercial clips were top of the list.
Parents can take preventative measures to protect children from viewing adult content. YouTube does offer a "safety mode" feature applicable to the browser or to the YouTube user. This "safety mode" causes YouTube to attempt to filter videos based on content, protecting the browser you or your child uses.
Parental controls software solutions, such as Net Nanny and Safe Eyes, attempt to protect kids from inappropriate web page content when browsing.
The most effective filter is adult supervision. Parents should monitor their children's YouTube searches to ensure they are viewing acceptable content. If not, when the shocking surprises occur, you've been warned.
Note: I work for Net Nanny; opinions expressed here are my own.
-Article Contributed by ContentWatch CEO Russ Warner
Download our infographic to get advice on how to keep your kids safe and happy online: "Safety Net: A Parent's Guide to Internet and Mobile Safety."