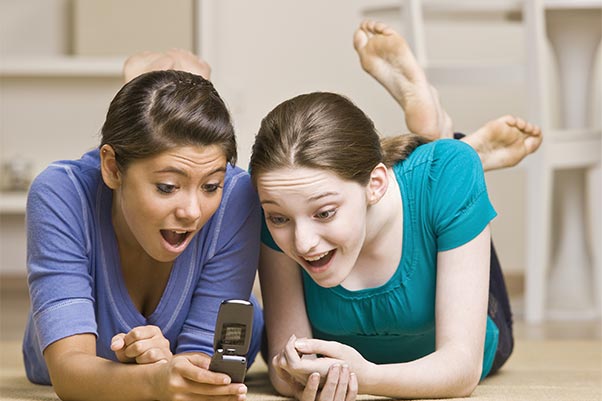 In the past two years, the Snapchat app has garnered impressive popularity among teens. The nature of the app and the January 2014 Snapchat security breach have caused parents some concern over the safety of the app. Not only should parents be concerned with these factors, but they should also be privy to Snapchat's alarming privacy policy and unsettling origins.
For those who are unfamiliar with the app's features, Snapchat allows users to send and receive pictures or short videos with a set number of seconds to view the videos and photos. After those seconds are completed, the data is erased. Snapchat is notoriously wary of providing the exact number of users of their app, but as of October 28th, 2013 they had roughly 26 million US users. 32% of teens ages 13-17 currently use Snapchat, and 70% of Snapchat's users are female.
The amount of female users may relate to the original intent of the app. The app was initially created for the sole purpose of helping girls sext with more discretion. These sexts were supposed to be considered "safe" sexts because they disappear after a few seconds.
A recent court document released by the Los Angeles County Superior Court documented a quote from one of the two of the founders of Snapchat regarding the creation of the app:
"Uhhhh, let's be honest. What b*tch ever wants anyone to get a hold of her pictures? I mean with incriminating photos of lacrosse team captains, rounds of drinks, and sexy, fun photos of new outfits, a b*tch would be at the mercy of her captor if anyone ever got a hold of her phone".
The statement is revealing about the kinds of guys who created the app and paints a pretty disgusting picture of the reasons behind them doing so. Although the marketing and use of Snapchat has ventured into being somewhat more innocent than solely being a sexting app, the original intent of the founders is startling and worth noting.
What's worse is that these so-called "safe" sexts and pictures may not be so safe. Social network privacy policies are often more relinquishing than most people realize. Many networks, including Facebook, have provisions in their terms of use that enable the networks to own whatever content you post and utilize however they please.
The Snapchat Privacy Policy states the following:
"Sharing of information: We may share information about you as follows or as otherwise described in this Privacy Policy: In connection with, or during negotiations of, any merger, sale of company assets, financing or acquisition of all or a portion of our business to another company".
This means that you explicitly give the company the right to sell your information to any company of their choice. Snapchat owns whatever content your kids are providing and, of course, recipients of Snapchat pictures always have the option of screen-shotting and saving photos. Take a good look at the terms of use sections of social networks next time you or your child are setting up an account.
Of course, this stipulation also brings up the infamous Snapchat security breach question: are the pictures really deleted or is the data for these photos and videos saved somewhere in cyberspace?
As with all social networks and apps, the potential dangers of Snapchat are ultimately in the hands of the user. Although no kids can control the safety of the data they're sending and receiving, the content of what your teens and tweens choose to send is up to them. Furthermore, by signing up to use this app users are literally agreeing to allow Snapchat to utilize their content. Inform your kids to only send pictures through Snapchat that they would be comfortable sharing with the world.