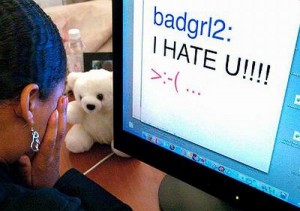 Bullying has often been considered as something that some children experience at some point in their lives. However, with the Internet and smartphones, bullying has been elevated to an extremely sophisticated type of social harassment. New studies are showing that bullying can have negative effects that last long into adulthood.

Loss of Confidence
A single act of bullying can cause diminished self-esteem that can last a lifetime. A child who is bullied feels powerless and their self-identity as a competent person who is able to protect himself in the world becomes wounded.
Although the incident of bullying may have occurred many years or even decades ago, the damage to the individual's self-concept may remain. As an adult, victims of bullying may have doubts about their ability to handle social situations, their ability to manage incidences of conflict or doubts about their worth. These feelings of weakness or incompetence can haunt them in their education, their work lives and in their relationships.
Increasing feelings of anxiety or depression are often a consequence of a bullying experience as people relive the loss of control and helplessness of the experience. Substance abuse can also occur. These negative feelings can intensify over time and last well into adulthood unless treated with therapy and medications, if needed.

Anger Problems
In some cases, the effects of the loss of control that occurs during a bullying experience can turn around and become an anger problem. The intense feeling of helplessness people feel when being bullied can become deeply ingrained and can explode in outbursts of rage whenever the person feels he is being threatened or cornered. This behavior can lead to problems at work and in personal relationships.

Poor Health
The emotional effects of having been bullied can be deeply suppressed and can lead to episodes of poor health. The repressed emotions can stifle the person's enjoyment of life because they retain the same fearfulness and terror of the initial event.
Social Withdrawal
The experience can cause the individual to withdraw from social contact with their peers, because they lose confidence in their ability to manage these relationships and no longer trust others to accept them as they are. This reaction can have very damaging effects on the individual who may become withdrawn, which often increases the impact of emotional problems and may even lead to suicide. Children who have been bullied and who show signs of withdrawal should begin counseling immediately to begin healing the emotional damage.
It's up to parents to ensure that kids aren't bullying or being bullied online and in-person. With proper digital parenting, parents can be knowledgeable and reactive to these circumstances. Bark provides parents with the means to identify these issues early and to proactively work to mitigate the harmful long-term effects of bullying.
RELATED ARTICLES:
10 Ways Parents Can Prevent Cyberbullying
Cyberbullying on Youth Sports Teams: It Happens More Than You Think
Understanding Cyberbullying: Why It Happens and How To Prevent It
10 Signs Your Child is a Cyberbullying Victim
[THIS BLOG POST WAS UPDATED ON 2/2/2019]