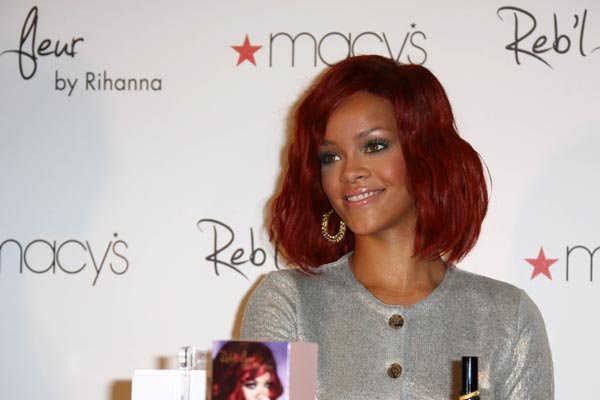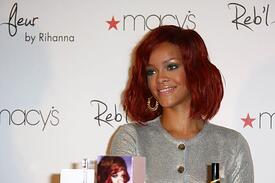 Many celebrities and public figures have experienced cyberbullying in the past. Ciara once wrote an angry letter to her cyberbullies, Minnie Driver recently quit Twitter after being taunted about her vacation photos, and even Olympic athletes have been ridiculed online. A story we don't hear about often: a celebrity participating in cyberbullying.
Sixteen-year-old Alexis Carter was excited to dress up as one of her favorite celebrities Rihanna for a Hollywood-themed prom. Before the event, she posted photos of her dress, which mirrored a previous dress worn by Rihanna. She had a great time taking the pictures and was complimented throughout the night.
However, since prom other kids have been making fun of her outfit relentlessly through social media site Twitter. The hashtag #PromBat began trending and, before she knew it, Rihanna herself had commented negatively about the teen's outfit.
Fox Baltimore reports,
"...The next day photos of some of her poses in the outfit began to spread on social media. On Twitter, the hashtag #PromBat began to trend, complete with altered photographs, mocking the young girl's outfit.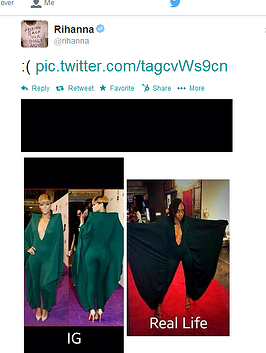 But what was, perhaps, most disturbing to Alexis was a tweet from her now former idol, Rihanna, who posted a photo of herself wearing the dress (with caption "IG") alongside a photo of Alexis in her dress (with caption "Real Life") and a sad face. In another tweet, Rihanna posted a photo of the teen alongside the bat-like logo of the Wu-Tang clan. 'I was very offended,' Alexis said of Rihanna's tweets. 'Why throw shade on it when you had on the exact same thing. The pose was different but the outfit wasn't'.
Five days after the prom the cyberbullying showed no signs of relenting."
While it is sad that a young girl was cyberbullied by her peers for her choice in outfit for a costumed event, it is even more disturbing that a celebrity would echo the taunts. Although Rihanna certainly doesn't claim to be a role model for girls, one would think that she would cease participating in cyberbullying out of respect for her fan.
Of all people, celebrities must understand the pain and humiliation that can perpetuate from world-wide harassment. Although it doesn't make it right, it's almost a part of public figures' jobs to experience online criticism. It truly goes to show that anyone is capable of cyberbullying, despite their background.
For the record, here at uKnow we think that the outfit was spectacular and that Rihanna should have expressed nothing but flattery!
Access the full Fox Baltimore article detailing the story here.