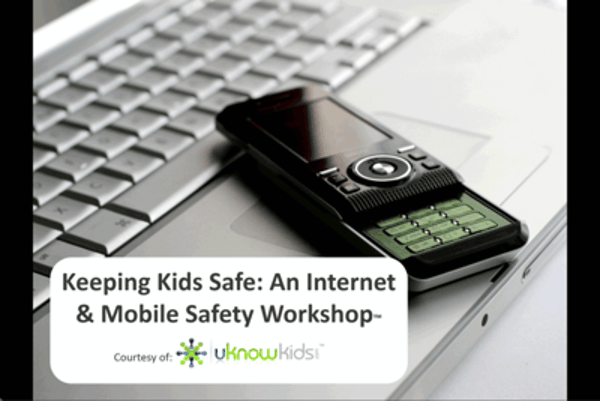 Today's children represent the first generation to grow up entirely in a digital world. They have spent their entire lives using computers, video games, webcams, digital music players, mobile phones, instant messaging apps and everything else the digital world has to offer. In a sense, our kids are all "native speakers" of a digital language.
They are "Digital Natives". So what does that make this generation of parents?
Those of us who were not born into a digital world are, and always will be, "Digital Immigrants" and we are now in the process of learning a new language while also trying to raise our kids and keep them safe.
uKnowKids' "Internet and Mobile Safety Workshop for Parents" will provide you with a better understanding of the technologies your kids are using today as well as the issues they are facing when using these technologies.
During the weekly workshops, we will share the latest statistics, videos and expert tips so that you have the information you need to communicate with your child about how to make the safest possible decisions with technology.
Did you know...
70% of kids 12-17 talk to strangers online

60% of kids 12-17 have been asked to meet offline by a stranger

20% of kids have been solicited while online

33% of kids have been bullied online

20% have sent a "sexting" message

40% of teens have not told their parents about something uncomfortable that has happened to them while online

48% of kids say their parents would not approve if they knew what they were really doing online
The uKnowKids "Internet and Mobile Safety Workshop for Parents" is presented by Tim Woda, an Internet & Child Safety Advocate, a Co-Founder of uKnow.com and the author of Keeping Kids Safe: A Guide for Parents of Social and Mobile Children. Workshops will be in session weekly on Wednesday nights from 7:30-8:30 PM EST.
The Internet and Mobile Safety Workshop for Parents is an invaluable investment in your family. Thank you in advance for your help in making the digital world a safer place for everyone. The workshop begins Wednesday, April 1. Get your ticket and view all upcoming workshop session dates and times here!
BONUS: Current uKnowKids customers are invited to request a VIP invitation to attend the workshop for free! To request a VIP invitation, send a note to support@uknowkids.com.