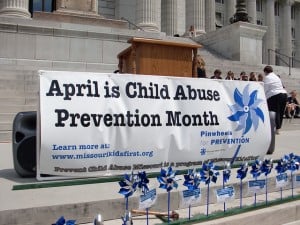 Did you know that April is National Child Abuse Prevention Month?

Internet child abuse is disturbingly common and often happens right under a parent's nose. One in five children are sexually solicited online every year, and only one-fourth of them told a parent. When a predator targets a child, they usually spend several weeks or months gaining the child's trust before any real-life abuse occurs.
In honor of National Child Abuse Prevention Month, recommit to protecting your own child, grandchildren, or students by reviewing these 11 signs that your child may be involved with a dangerous person online:
Unfamiliar friends on their social networking buddy list

Unfamiliar contacts in their cell phone

Pornography, especially child pornography, appears for the first time on their phone or computer

Sudden knowledge about sex or other adult topics

Carrying expensive gifts that can't be explained, especially a new cell phone

Skipping school

New rebellious or edgy behavior, language, or dress

Risky behavior like smoking, taking drugs, or drinking

Distances self from offline friends and family

Unwillingness to give details about online whereabouts, friends, or communications

Moodiness, especially following online activity

National Child Abuse Protection Month is dedicated to keeping kids safe everywhere from the harmful effects of abuse and specifically, internet child abuse. This April you can redouble your efforts to be involved in your child's online life and learn to recognize the early warning signs of a predator targeting your child online. Stop Internet child abuse before it starts.