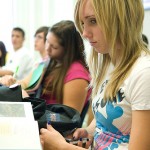 The cyberbullying-induced suicide of Massachusetts teen Phoebe Prince in March put cyberbullying back in the spotlight. Parents need to talk to their kids, not only about what to do if they are cyberbullied themselves but also how to stop it from happening to their peers and how to avoid becoming cyberbullies themselves.

Cyberbullying is any form of harassment, humiliation, or abuse that takes place using technology and Internet connectivity. It can, and often does, start with seemingly innocuous things like fowarding an embarrassing picture of a classmate or leaving an off-the-cuff mean comment on someone's Facebook Wall. It can escalate to more serious offenses like impersonating someone else on the Internet or setting up a website designed to make fun of them.

If your child is involved in MySpace or Twitter, participates in social gaming, has a camera phone with texting capabilities, or uses photo sharing sites, then you need to have a conversation about the importance of refusing to contribute to cyberbullying in any form.

The truth is that not all cyberbullies are bad kids. The anonymity of the Internet, combined with the tendency of teens to "join in" when they see their peers doing something, can lead to poor Internet choices that can hurt others. We give teens and tweens an enormous amount of technology to handle, sometimes before they have the maturity and impulse control necessary to use it responsibly.

Impress upon your child that even though it feels like you're only typing or texting, some online actions can cause real-world damage. Before saying or doing something online that involves another person, teens should ask themselves:
Would I be embarrassed if my parent found out I was doing this?
Would I still do this if an adult was looking over my shoulder?
How would I feel if I was the subject of this particular email, text, or picture?
If your child is aware of cyberbullying in their school, then let them know they are in a very powerful position to help stop it. They can report abuse to their school or local authorities, offer support to the victim, and most importantly, not contribute to further cyberbullying. As long as cyberbullies feel social approval from others, the abuse will continue.

Every parent with a child connected to the Internet needs to talk about cyberbullying, and it needs to be an ongoing conversation rather than a one-time event. Talking about your family's standards for using technology can never hurt, and it could even prevent your child from contributing to or encouraging perpetrators of cyberbullying.
-Article Contributed by Jenny Evans