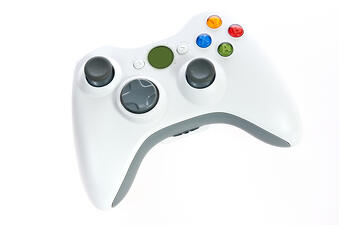 Xbox. Xbox 360. Xbox LIVE. What's the difference between these systems and what do we need to know as parents. Let's start with the basics.

When I was a kid "social gaming" meant sitting around with your friends on beanbag chairs, waiting for your turn at Pac-Man with the one joy stick we had. The definition of "social gaming" for our children's generation is very different.

Today, our children can pick up their controller and play a game of Halo with someone 1,000 miles away by connecting online. They can check to see if their friends are "online" and join them in "multi-player mode", all while sitting on beanbag chairs in different houses. The world of gaming is changing rapidly and as parents we need to change the image we have of how kids play video games.

Microsoft's Xbox is just one example of "social gaming". These systems allow the user to connect online through your homes internet connection to download new games, chat or play with others users, download and watch movies, or even share photos.
So what is the difference between Xbox's systems?
Xbox – Developed by Microsoft and released in 2001. Xbox is the original gaming systems name. It allows up to 4 player controllers. In 2002, Microsoft announced the Xbox LIVE which would allow players to connect to others online.

Xbox 360 – This is the second gaming console released by Microsoft in 2005. It is the "successor" of the Xbox.

Xbox LIVE - Microsoft's Xbox LIVE is basically the online service for Xbox or Xbox 360. Xbox Live is a paid subscription to Microsoft's online gaming and content distribution service. It allows the player to play against others online, chat with friends from school or people they meet on Xbox LIVE, download and trade photos and even download new games, movies and television shows. When a player registers for LIVE, they create what is called their GAMERTAG, which is a "nickname" that will be displayed on Xbox LIVE so other players can see what games you play, how well you play them. It is like a screen name.

If you are thinking about connecting your child's Xbox to the Internet or already have a child connected, remember, as soon as your child is connected, the gaming console becomes a social networking tool. In fact, Xbox Live recently gave users the ability to interact directly with Facebook and Twitter. If you have parental control software on your family computers, that will not limit access to these sites if accessed through Xbox LIVE.

Without the internet connection, the Xbox and Xbox 360 are just like the games we grew up with – only with much better games (sorry Pac-Man). You can only play with the people physically located in the same room.
Understanding the Risks
Online gaming is fun, exciting and today it is a part of childhood. Inherently there is nothing wrong with it. But just like any other place our children connect to the Internet, there is only one-degree of separation between our children and those intent on doing our children harm. Parents need to understand the risks.

In Portsmouth, Virginia a 24 year old man was arrested and charged with a felony after asking for nude photos of a 13 year old via the Xbox LIVE. In Saratoga Springs, New York a 20 year old man was arrested after finding the address of a 15 year old girl and sending her packages and flowers and sending thousands of text messages through her cell phone. The parents of the girl refused all of the packages and changed the cell phone number, but the predator did not stop there. He drove to her home and after finding the new cell phone number, sent text messages threatening to "rape" her and her little sister. Cyberbullying is rampant!

Last night I had the opportunity to spend three hours in the FBI's Washington field office with their Child Exploitation Task Force. One of my key take-aways the meeting was that in their opinion, parents are simply not aware of the risks their children are exposed to online. For one reason or another, few parents think bad things are going to happen to their child. They think their child is too smart, too careful, too responsible, etc. Predators are experts at finding our children. They always go where the children are. They are experts at approaching them and "grooming" them. And it happens to smart, careful, responsible kids everyday. In fact, while at the FBI office, a special agent demonstrated this live for the meeting attendees. He created a brand new online profile, pretending to be a 13 year old and went online into a chat room. Within 60 seconds, his fake profile was being chatted up by several adults and within 10 minutes, one of the random strangers – who identified himself as a 40 year old man – had sent the child a nude photo and was speaking in a sexual manner to the "child".
This is a Parenting Challenge, not an Xbox Challenge
It is important to understand that this is not an Xbox challenge. This is a parenting challenge that applies to all internet-accessible devices. The world is now wired but our kids are still kids, no matter how smart or trustworthy they are. It is important that we educate and engage our children on an ongoing basis about how to stay safe online. A few of very simple rules:
STOP- When online strangers try engage your child, they need to STOP, meaning they should not respond.
BLOCK – They should BLOCK the stranger so that they can not continue to communicate with them
TELL – Our kids need to know to TELL a trusted adult, hopefully their parent.
And of course we need to make sure our children know that they should never meet someone in real life that they met online – ever. You might consider reviewing an Internet & Mobile Safety Pledge with your kids.

It is also critical that you have a way to supervise your children's usage of Xbox LIVE on an ongoing basis. Using Xbox LIVE's parental controls complimented by our service should provide you with the peace of mind you need to allow your children to safely enjoy Xbox LIVE's amazing technology while playing with family and approved friends.