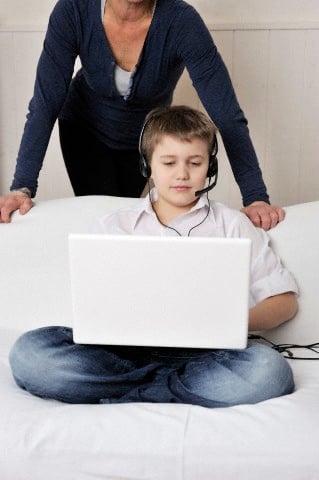 With all of the distractions that are around these days, children are having more and more trouble focusing. However, there are ways in which you can get your child to stay on task every day, it just takes a little digital parenting tricks.

It can be a bit difficult at first, but if you follow these plans then you will have a child that is focused and interested. Here are the best ways to build focus:

Eliminate distractions

Although you can not control the weather (which may be a distraction all in itself), there are many distractions that you can prevent.
Cell phones, computers, televisions and video games can all be off limits when it is time to study and concentrate. Consider monitoring their online and mobile usage with a service that is not too intrusive so you can ensure that they are following house rules.
It can also be even harder to focus when there is no noise at all, so some children find it's easier to study with music. However, some music can be distracting, especially the lyrics. If your child does insist on some noise, try some classical music without distracting words.

There are even apps on phones that can limit the amount of time that a child can play a game or watch videos. Use these as tools if you aren't able to be around the child when they are supposed to be studying, or even a parental control on the television.

Create a schedule

It's easier to avoid distraction when there is a solid structure. There may be some days when there is no homework, but there's still studying to do. Set aside a specific time each day to have this studying complete.

It can be an hour or two, and it's easiest to do it at a time where there are no distractions such as other children around. For instance, if your child does not participate in a sport, set the time to be right after school when other friends may be at practice.
The only problem with this is that a set time may be a point of distraction for a child who is counting down the minutes until study time is complete. So it's important to reiterate the value of studying each and every day.

Spend energy first

With a lot of unused energy, it can hard to keep focused on studying or homework. If your child is one that becomes fidgety when they have a lot of energy to use, then have them get it out of the way before studying.

Earlier we mentioned how children participate in sports--that is a great way to spend that energy. Not only does it add to the value of schedules and structure, but will also help keep them focused in the long run. Even if it is just playing around outside for an hour, every bit will help.

Positive Reinforcement

Although rewards can sometimes be used in the wrong way, it's better to set a long term goal. Instead of giving out $5 for every day homework and studying is complete, try using a different method.

If a child stays focused and concentrates on their studies every day for an entire month, they can be rewarded with something more enriching. This can be a trip to the bookstore where they get to pick an item out or a sporting event which is always a good time.

As long as you do not go overboard with the rewards, it is a great way to motivate focus.

Don't work the entire time

After having to spend the entire day in class in which lecturing can go on for over an hour at a time, students have trouble staying focused for another extended period of time afterwards. This is why it is important to relax once in awhile.

Every 15 minutes or so, have your child take a couple minutes to stretch or grab some water. It's hard to get that luxury in school, so it will be a welcome change at home. Just make sure they are not spending that few minutes on the phone or computer, or even caught in a conversation.

It can be difficult to have your child focus for a long amount of time, but it's necessary to get all of their studies done in a timely manner. Follow these tips and you are sure to see your child become more focused almost right away.
Parenting has become increasingly more complicated with cell phones and computers. Read about how you can keep up with it all in our eBook! Download "Digital Parenting: The Essential Guide to Raising Connected Kids" now.