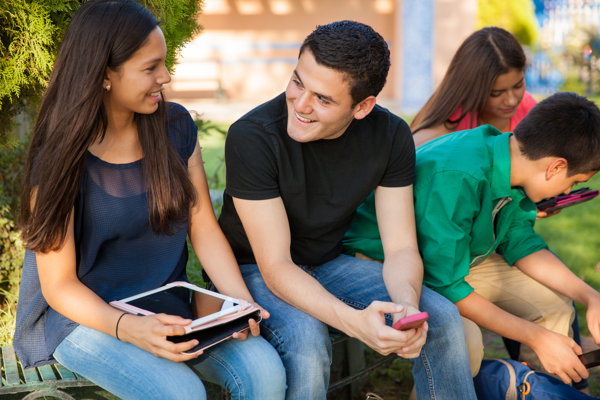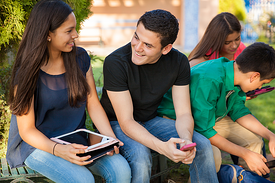 As if being a child in this world is not stressful enough, there is now pressure on many young teens to download and use hookup apps. There are many free, available apps to choose from, with no parental consent required. While most are made out to be geared towards adults, the horrible truth is that the creators know that kids are using them, and apparently do not care much. Either that, or they just don't moderate their applications the way that we feel like they should.
Remember AOL dial up chat rooms? You would get kicked out so fast if you even made the slightest remark that was off base. The ninety's had it right. There was someone moderating every word that was spoken in those days. Unfortunately, this is a totally new era with a totally new set of rules and expectations.
With all of that being said, the fact of the matter is that there are no moderators. No one is watching to make sure that kids are not downloading these apps onto their smartphones or other devices. That is just not the way that it goes anymore. It is the job of us, the parents, to ensure the safety of our children.
Hook Up Apps Are Around Every Corner
Hook up apps are everywhere. You can log in to the google play store and see a ton of them immediately. Let's use Tinder for example. It's sole purpose is to match people to other people. Although Tinder Co-Founder Justin Mateen claimed to The Guardian that the app is not a "hookup app", but is rather a "social discovery platform", it is very clear in pop culture that Tinder is the reigning hookup app available for users of any age.
Disturbingly, hookup apps like Tinder are all the rage with teens and tweens. More than 7% of Tinder users are between the ages of 13-17 (Tinder users can be as young as age 13!). Popular dating/hookup apps like OkCupid and Match.com require users to be at least 18-years-old. However, we all know that it is as simple as lying about your birth year to get around age requirements.
How do we keep our kids from these? What do we do as adults to make the younger generation understand that while it may be the 'cool' thing to do, they should not be doing it?
Finding an Answer
The answers are not simple. We advise looking at your child's phone weekly and checking for any installed applications that would indicate that he or she has a hook up app. If you find one, the best approach would be to very calmly broach the subject and discuss why you require that they remove it. Keep in mind that smartphone users can disguise an app icon with another, less insidious-looking icon. Take note of all new apps, even if they appear to be inconspicuous.
Another good strategy would be to try to leave the lines of communication open with your children, if they aren't open already. Maybe try bringing up the silliness of these hook up apps with the older teens in a casual conversation and see what they have to say on the topic. Whatever you do, don't panic, just listen.
No matter how high our desire is for hook up and dating apps to disappear off of the face of the Earth, the fact is that they just are not. They are here to stay, and probably only getting worse. It is hard for a kid to not feel pressured by their peers, but positive and informed parenting is the greatest tactic to staying ahead of the curve where these things are concerned. Engage with your children, keep tabs on what they are doing and who they are talking to, and do not be afraid to look at their devices to see what is on them.
Hook up apps are a no-no, and as always we encourage you to talk with your teens and tweens about the safety of all applications and online usage.