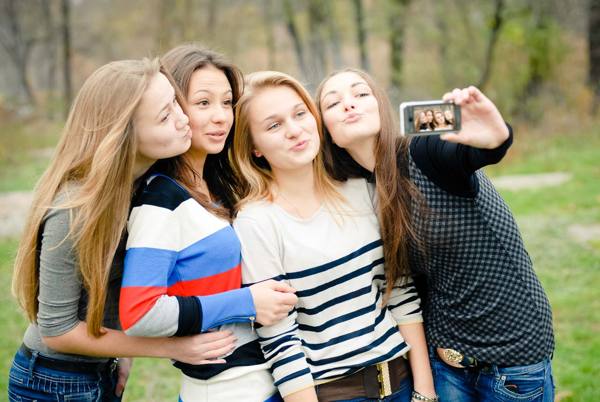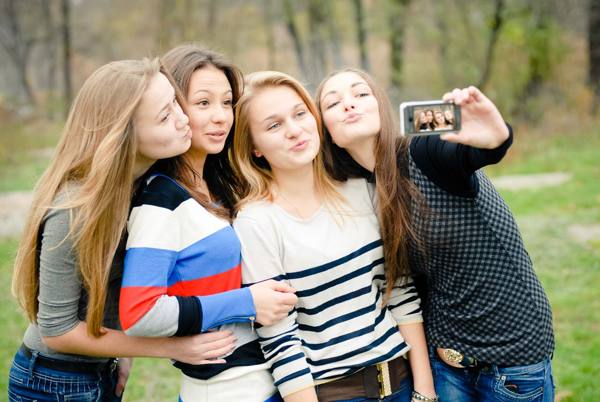 You can hardly go onto Facebook, Instagram or any other social media site without being inundated with selfies. A recent PEW study found that a whopping 91% of teens have reportedly posted a photo of themselves online. With this kind of statistic, odds are that your teen has already taken and posted at least one of these instant self-portraits.
For most teens, selfies are a harmless bit of adolescent fun, no more dangerous than other passing fads. Actual damage by selfie is rare, but it does happen. As a parent, you need to be aware of these risks and become equipped to discuss them with your teen.
Selfies and Self-Esteem
One risk factor for selfies is that the act and obsession with taking them can lead teens to the development of poor self-esteem. There has been some speculation about whether self-portraits help or hurt self-esteem. Out of the few studies that have been conducted on the matter, the verdict on the effects of selfies on teen self-esteem is somewhat conflicting.
A body image survey conducted by AOL.com and the TODAY Show found that 65% of teen girls feel that selfies boost their self-confidence. 40% of them agreed that social media helps them put their best face forward. However, 53% of respondents alleged that photos of themselves that are posted by others can make them feel bad.
On the other hand, a poll from The American Academy of Facial Plastic and Reconstructive Surgery found that 30% of plastic surgeons reported that they've seen an increase in demand for plastic surgery because patients aren't happy with how they look in selfies and other social media pictures. Earlier this year a teen from the UK became obsessed with taking the perfect selfie. He dropped out of school, lost thirty pounds, and didn't leave the house for six months because he was devoting ten or more hours a day to taking pictures. Eventually, he attempted suicide by overdose.
The chances are pretty good that your teen is not as ill as this young man was, but, while rare, the case demonstrates how poor self-esteem can be exacerbated by the selfie trend. The danger is very real and is something that should be on every parent's radar.
Selfies and Your Online Reputation
As with all online and social media activities, posting selfies can have a negative effect on your child's online reputation. Research by the University of Edinburgh and Heriot-Watt University found that both the quantity and subject matter of photos that are shared with friends on Facebook can impact the level of support and intimacy within their relationships.
A study from Oregon State University found that girls and young women who post provocative pictures on social media are viewed as being less physically and socially attractive by their female peers. Their female peers are also apt to view girls who post revealing selfies as being less competent to perform tasks.
Additionally, the permanence of anything that is posted online, like selfies, can haunt a teen years after they're taken. Although there are a few ways kids can make the social networks they use more protected, there is never a guarantee that something won't go viral once it is posted or merely sent to one person.
College admissions officers and scholarship foundations now often include a search on social media for prospective students. Many employers have started looking up a job applicant's online presence and factoring that information into their hiring decisions. That car-surfing stunt a teen photographed in his first year of college may be years in the past. But to an employer, what does that say about the job applicant's judgment and self-control? He doesn't know how long ago that picture was taken or how much your teen has changed in the intervening time; he only knows what the photo tells him.
Selfies and Predators
Employers and college admissions officers aren't the only people who look at selfies. Savvy online criminals can glean tons of information from a simple photo. At a time when protecting your online identity is so crucial, posting a selfie on Instagram or Twitter for any thief or predator to find is simply not safe.
Explicit oversharing is an obvious digital danger for teens when it comes to posting phone numbers, geotags, and home addresses. A more insidious online risk that is often overlooked is the leaked information that can be exposed in the background settings of posted pictures and selfies. Many don't think twice about the personal details they may be including in photos that they turn public.
Think about it: if your teen's after school job requires a name tag, any innocent selfie taken with the tag in frame can provide a criminal with your teen's name and work place. Regular photos taken at sporting events or favorite hangouts tells a criminal where your teen can be found on a Friday night and what he likes to do. Predators can piece together anything and everything found in the setting of a selfie and become equipped to anticipate a teen's entire daily schedule.
Granted, these dangers are rare. But even if the odds are in your favor, there's always a chance that your teen can become a victim. Moderation with selfies is key. Discussing the dangers with your teen and encouraging responsible and thoughtful choices when taking photos will help mitigate that rare danger to something both you and he can live with.

Selfie Safety Tips:

1.) Teach teens early on that selfies, social media posts, and the feedback they receive on social media should not be tied to their self-worth
2.) Ensure that your teens are using proper privacy settings throughout their social media accounts
3.) Instruct your kids to be careful about the personal settings and items that are featured in selfies
4.) Advise teens to only post selfies (or anything on social media) that they would be comfortable sharing with the world

View our Selfie Safety Infographic to see these and other selfie risks outlined. The infographic also displays facts about self-portrait trends and breaks down the definitions of terms that are often associated with the selfie culture.