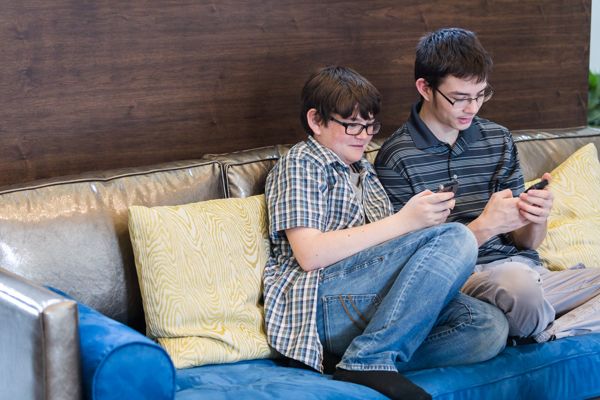 If you've ever had to persuade your child to put down the game controller and go outside -- or if you have to coax them away from their smartphones to eat a well-balanced meal -- you already understand the impact that technology can have on physical activity and diet. While modern innovations make academic research easier than ever, they also come with a whole host of health risks, and teenagers face a bigger threat than anyone else.
It's no coincidence that obesity rates have skyrocketed in the United States right alongside innovation. While great thinkers can harness new technology to make the world a better place, there are downsides to modernization too.
First Lady Michelle Obama waged war against childhood obesity in 2010, launching a nationwide "Let's Move!" campaign that focused on reversing the effects of the past three decades. That's because a third of American minors are overweight or obese right now. Three decades ago, only one in nine faced this problem.
Much of the campaign aims to prevent modern technology's impact on health: cars and buses that replace walks to school; modern food production processes that favor preservatives over nutritional value; and time spent in front of video games, TV screens and Internet browsers, rather than in the gym or on the field.
Hazards of Instant Gratification
While it's difficult to distinguish between correlation and causation when it comes to obesity statistics, there's no denying technology's impact on health because of the way it has changed the average American childhood. Screen time, a phenomenon which describes time spent in front of a TV, tablet, computer monitor, smartphone or gaming device, has become a buzzword in parenting circles for a very good reason. Receiving constant social media alerts and collecting video game points can be as addictive as gambling, because they provide instant but short-lived gratification.
Teachers even notice decreasing attention spans because of this very problem; kids have trouble focusing on a textbook page or chalkboard when their brains are hard-wired to expect new images and information every few seconds. Of course, this also means that kids are more inclined to stay in, sit still and receive their rewards from a stationary screen.
A Health Threat to the Developed World
If you're worried about technology affecting your growing teenager's future, you're already one of the lucky ones. In the 21st century, the greatest economic tool for developing countries is investment in technological innovation. It enriches national economies, makes education more accessible, encourages scientific and medical exploration, and gives kids and adults alike a way to connect and collaborate with their peers in the global community. However, the modern benefits of technological innovation also have an ironic twist: they've disproportionately compromised quality of life for the privileged.
The Milken Institute, an economic think tank that works independently in California, released a report in August 2012 that measured technology's impact on health in developing countries. These included processed foods and frequent screen time. Their esteemed team of researchers zeroed in on countries that currently invest in knowledge-based innovations; they found that obesity rates climbed 1.4 percent for every 10 percent increase in a government's communication technology budget.
What Can You Do?
You don't have to choose between technology and physical fitness. Your family can have the best of both worlds, incorporating innovations into a healthier lifestyle. For example, motion-sensing video game technology makes it easier than ever for developers to incorporate exercise into onscreen challenges. Ditch the handheld controllers and invest in a system that lets you use your own body to control the game. This is the wave of the future for consoles, and it's not slowing down any time soon, so even if you can't afford the latest system, it won't be long before original prices plummet.
If you can't keep your kids off their mobile devices voluntarily, make the most of it. Many tablets and phones come with parental settings, so if you're paying the bill, don't be afraid to take advantage of them. Set daily limits on text messages, phone calls and particular apps. If they can only shoot animated birds for half an hour each day, they might be more inclined to find other distractions on their phone... and that's where you come in.
Install apps that encourage physical activity by making it a challenge. Built-in calibration technology can function as a pedometer and fitness tracker, to chart your child's progress throughout the day. Others turn nutrition into a challenge, allowing them to log their meals and receive helpful tips by mimicking the format and instant gratification of the apps they already use to "check in" to favorite hangouts.
Set an example by putting down your devices and picking up your running shoes, too. It's not too late for your family to reverse technology's impact on health. Be sure your kids and teens aren't overdoing it with technology through uKnowKids, which enables parents to keep tabs on just how much time kids are spending online.
Related Article: What Are Tech-Free Zones and Are They Right for my Family?